Tokaido Yotsuya kaidan (Ghost Story of Yotsuya)
(1959)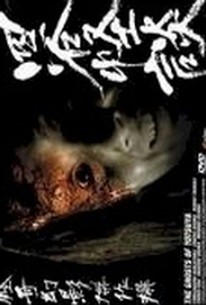 AUDIENCE SCORE
Critic Consensus: No consensus yet.
Tokaido Yotsuya kaidan (Ghost Story of Yotsuya) Photos
Movie Info
This horror tale relates the consequences of a Japanese legend which tells of a man who has to betray his wife in order to achieve power. (In Japanese with English subtitles) ~ Rovi
Critic Reviews for Tokaido Yotsuya kaidan (Ghost Story of Yotsuya)
All Critics (1) | Fresh (1) | Rotten (0)
Nakagawa delays the supernatural elements of his story till relatively late in the running time, and uses them merely to amplify what is already an intense moral drama.

Audience Reviews for Tokaido Yotsuya kaidan (Ghost Story of Yotsuya)
Lemon is a wondering samurai with little to live for. He spends the majority of his days gambling and borrowing money. Lemon tries to talk a middleclass noble into giving him his daughter's hands in marriage; however, the nobleman denies Lemon's request. Lemon kills the nobleman and convinces others that the dying nobleman gave Lemon his daughter with his dying words. Lemon marries the nobleman's daughter but is far from a worthy husband. After meeting a woman in Ito, Lemon kills his wife and baby. The wife returns to haunt Lemon. "[color=white]The fury of a woman driven mad is surely the greatest horror of them all."[/color] Nobuo Nakagawa, director of Quick Draw Okatsu, Okatsu the Fugitive, Black Cat Mansion, and Rivals, delivers The Ghost of Yotsuga. The storyline for this series is brilliant and well delivered. It was easy to see where the current Japanese horror pictures (Ring-u, Ju-on, The Eye, and Reincarnation) got their inspiration from. The acting was fabulous and the cinematography was stunning. "I won't tolerate you haunting my grounds like a stray cat." The Ghost of Yotsuga recently aired on the Independent Film Channel (IFC). This old school samurai horror picture has a lot going for it: stunning settings, fantastic cinematography, perfectly depicted characters, and a fascinating storyline. This is a smart horror picture with many intricate facets. This film could have been a little better paced and contained more gore, but it is definitely worth watching. "You won't escape my vengeance." Grade: B
Kevin Robbins
i really liked this old horror flick!nit had a weird vibe of something bad is gonna happen thru the wole movie...
diana iero
Nakagawa creates the film's mood by beautifully photographing the environment in which the characters familiarize themselves in. The audience is meant to as well and when the final act begins he turns everything into a dream like hell (just like... Jigoku) when vengeful spirits begin to take shape and haunt the characters who have done evil. And to think, J-Horror has gone from old fashioned imaginative storytelling to haunted cellphones.
Sean N
Tokaido Yotsuya kaidan (Ghost Story of Yotsuya) Quotes
There are no approved quotes yet for this movie.
Discussion Forum
Discuss Tokaido Yotsuya kaidan (Ghost Story of Yotsuya) on our Movie forum!