Tokyo Babylon
(2003)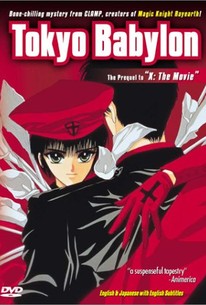 AUDIENCE SCORE
Critic Consensus: No consensus yet.
Tokyo Babylon Videos
Tokyo Babylon Photos
Movie Info
Based on a manga series by the all-female Clamp studio, these two OAVs from 1992 and 1994 are linked by the character of Subaru, a powerful medium whose family has used their psychic powers to "protect Japan for 2,000 years." In the first adventure, he's pitted against a power-hungry executive who murders anyone in his way. The embittered sister of one of his victims unwittingly releases a spirit too powerful for her to control. In the second, Subaru helps to solve the grisly murders committed by a serial killer stalking the Tokyo subways. The police also call in Mirei, who has powers of "post-cognition": an ability to see into past. In each case, Subaru is rescued at the last minute by the handsome veterinarian Seishiro. Subaru and Seishiro also appear in the feature X (1998). (Rated 13 and older: violence, violence against women, grotesque imagery) --Charles Solomon
Rating:
NR (violence)
Genre:
, ,
Directed By:
On DVD:
Runtime:
Studio:
Central Park Media
Critic Reviews for Tokyo Babylon
There are no critic reviews yet for Tokyo Babylon. Keep checking Rotten Tomatoes for updates!
Audience Reviews for Tokyo Babylon
(Lazily copied from my animenfo review, which is why it's so fucking long.) Among the reams of throwaway one-shot or two-part OVAs that inundate the anime market, Tokyo Babylon manages to stand out for a few key reasons. Its pedigree, the animated adaptation of a CLAMP brainchild, certainly helps to win support, and its surprisingly engaging storytelling manages to keep it. Though there is no real impetus to propel these short stories forward, no beginning and ultimately no real ending, this anthology of supernatural tales maintains its entertainment value and overall quality. Of course, this isn't a CLAMP title for nothing. Many of the studio's typical trademarks find themselves sitting pretty among the exposition, including but not limited to: shonen-ai subtext, cherry blossoms, at least one oddly-dressed female character, at least one character who also appears in a different series, and tall buildings that play an important role in the plot. To be honest, I've never been a huge fan of CLAMP. Because of these surprisingly prominent hallmarks, their anime and manga has always been uniformly uninteresting to me. However, Tokyo Babylon actually went out of its way to keep me watching; its first offering was a surprisingly subdued, brooding atmosphere, offset only a few times by Subaru's obnoxious sister. In downtime between fights and action sequences, the anime is reserved and manages to communicate without showy displays of melodrama, both of which are certainly a plus. Unfortunately, I can't say that this works 100% of the time; I fell asleep during a fantastically boring conversation in the middle of the first episode and had to rewatch it all. This foray into slumber was probably prompted by my overall lack of interest in the main characters. Subaru Sumeragi, our exorcist protagonist, is mostly a loser. He is full of funny hats, women's clothing and kowtowing submissiveness, none of which tend to make for a very compelling protagonist. His lack of backstory can be forgiven because the OVA is short and focuses mostly on storytelling, but because most of the characterization is devoted to the episode-specific characters, he ends up very one-dimensional in the long run. Hokuto, his sister, is completely irritating as most anime sisters tend to be. She is the anime's outlet for 'cute' verbal humor and bizarre costumes and tends to find herself providing very unwanted comic relief. She has one plot-pertinent scene in the entire OVA and it's only thirty seconds long. Seishiro is an unexplained character who lives with the Sumeragis; there's no depth to him, but it seems like there could be potential for it. There's something a little bit creepy about his possessiveness of Subaru. The strongest parts of the characterization, however, are the two characters who find their duties or desires intertwined with Subaru's path in each episode. The first paints a compelling tale of revenge, and the second is a character tormented by a gift that she can do nothing with. The characters themselves are not that strong, but the plots they are embroiled in take the cake. The OVA is divided into two different stories; my personal favorite was the second one, but the first is not too far behind. Episode 1 of the OVA deals with a construction supervisor who is always surrounded by messy accidents that put him into a position of higher power and a widowed woman determined to stop the murders he commits. This plot is a little less interesting because we know right away that this man was responsible for all of their deaths and there's no real element of suspense to it. There's still a fairly engaging fight scene to be beheld, though. The second story is far stronger, chronicling the tale of a subway murderer and a woman with post-cognition who is called in to help with composite sketches. Her power tears her apart since she can only see what has happened in the past, making her feel helpless in the face of the tragedies she has witnessed. After this murderer strikes close to home, however, her demeanor changes. I put this tale above the previous one because not only is the character of Mirei stronger than the other woman in the first episode, but the ending is also a lot better. Tokyo Babylon makes for a good hour and a half of viewing entertainment. Chances are, you'll either like it or hate it, even more so if you're a CLAMP fan. If you're an X fan, however, keep in mind that this actually has very little to do with X TV, despite how the box bills itself. View this as an independent story or you will probably be disappointed.
Drew Smith
Super Reviewer
Discussion Forum
Discuss Tokyo Babylon on our Movie forum!
News & Features