Tokyo Fist
(1998)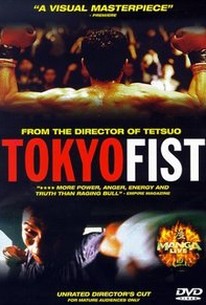 AUDIENCE SCORE
Critic Consensus: No consensus yet.
Movie Info
Tsuda (played by Shinya Tsukamoto) is a frustrated insurance salesman who lives a life of quiet desperation with his girlfriend Hizuru (Kaori Fujii). His job yields little fulfillment, his relationship lacks passion, and he feels perpetually fatigued, as if overwhelmed by the inhuman scale of Tokyo. His life takes a bizarre turn when his old high school acquaintance Kojima (Kohji Tsukamoto) pays him a visit. The wild-eyed professional boxer attempts to seduce Hizuru, driving Tsuda into a jealous fury. When he confronts Kojima, he ends up in the hospital and Hizuru ends up with the boxer. Seeking revenge, Tsuda begins boxing training with insane intensity. Watching his former high school chum thrash his sparring partners gives Kojima a rise of some form, bolstering his sagging career in the ring. Meanwhile, Hizuru begins her own brand of self-discovery though self-mutilation, from relatively mild tattoos and nose rings to driving metal stakes into her flesh, until she looks like a vengeful goddess from Japanese mythology. What develops has to be one of the most bizarre, masochistic love triangles ever committed to celluloid. Kojima relishes ripping the rings from Hizuru's flesh; Hizuru tenderly beats Tsuda into a bloody pulp; and Tsuda bashes his own head against the wall. ~ Jonathan Crow, Rovi
Rating:
NR
Genre:
, , , ,
Directed By:
In Theaters:
On DVD:
Runtime:
Critic Reviews for Tokyo Fist
Audience Reviews for Tokyo Fist
[font=Times New Roman][size=3][color=sandybrown]United 93[/color][/size][/font] [font=Times New Roman][size=3][color=sandybrown]2006[/color][/size][/font] [font=Times New Roman][size=3][color=sandybrown]Rating: 40/100[/color][/size][/font] [font=Times New Roman][size=3][color=sandybrown]I really wanted to care while I watched this film but I couldn't bring myself to care in the end, what the people of United 93 did is a great act, and this film was a good memorial to those who cared for the characters. But I felt engrossed at the beginning of United 93 but I gradually lost interest and it just dragged on until I just was kind of thinking things like this is getting slightly repetitive, I appreciate the sense of desperation. However, towards the last 30 or so minutes, it felt tiresome to me, the tension was gone by then, I just was getting back into it by the end. Overall, I just found this to be badly paced and repetitive.[/color][/size][/font] [font=Times New Roman][size=3][color=darkorange][/color][/size][/font]
Kent Haley
½
The movie is about boxing in the same way a shore is 'about' sand, its just the backdrop, a place where violence can fester. For starters the movie is relentlessly beautiful, you could make a fat folder of images for your desktop with screen grabs from this movie. There are compositions in the film that have the power of excellent photography, an Ansel Adams of urban japan, gutters and over passes included. The city with it's towering buildings almost becomes a character in the movie. The film certainly aims for a disassociation from reality, often the colors of the movie stray into predominantly blue, yellow, orange. This artificial coloring along with the practiced compositions pushes the story into the realm of less real world narrative than that of allegory, myth perhaps. A bit of David Lynch perhaps filtered through another cultural sensibility. It's certainly not a straight forward Hollywood narrative and this will cause problems with many viewers. The emotional crescendo that viewers are accustomed to is missing and instead the characters progress through their own transformations apart from one another. The main themes through the film are guilt and punishment, the men haunted by a long ago event extract their vengeance upon one another, she, by subjecting herself to the line between self mutilation and beautification. Through this the characters are lost or saved. Subtitled in English of course and not the easiest watch, in fact it can be a bit of a test, perhaps a drink will make it go down easier.
H Pear
Tsukamoto churns out a violent and uncontrollable view of male masculinity. I love this subject and I love it when my favorite directors touch upon it. Tsukamoto has the 'Jap rage' as he trains uncontrollably and madly to beat up his old friend who has started an affair with Tsukamoto's fiance. The camera work is amazing as usual I love Tsukamoto's style.
Sean N
Tokyo Fist Quotes
There are no approved quotes yet for this movie.