Tokyo Babylon
(1992)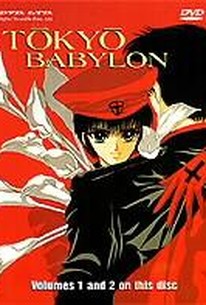 AUDIENCE SCORE
Critic Consensus: No consensus yet.
Movie Info
This special program contains both volumes of the supernatural thriller TOKYO BABYLON. In the first, a businessman named Shinji Nagumo is living well and prospering while others have suffered deadly consequences during the construction of a new skyscraper. But his good fortune is about to end. Subaru Sumeragi, Japan's most prominent psychic, is trying to figure out what's at the root of these fatalities.The second finds the police turning to a psychic when they have trouble tracking down a demented murderer who's been targeting women in the subways. Mirei Hidaka has incredible "post cognitive" powers that give her the ability to see visions from the past merely by touching a body. However, once she's put on the case her own life falls in peril as well. Now it's up to Subaru Sumeragi, Japan's most famous medium, to put an end to the fiendish murderer's spree of terror before Mirei becomes the next victim.
Rating:
NR
Genre:
Directed By:
On DVD:
Runtime:
Critic Reviews for Tokyo Babylon
All Critics (2) | Fresh (0) | Rotten (2) | DVD (1)
the narrative is competent, with some decent fantasy-action near the end, but on the whole the program didn't seem as creative or intriguing as many of the others
Audience Reviews for Tokyo Babylon
½
The "Tokyo Babylon" DVD contains both episodes of an animated series that focuses on Saburo, a young girl who is the heir to Japan's greatest psychic/medium tradition and the most recent in a long line of mystics who have served the nation's movers and shakers for as long as there have been a Japan. Other main characters include her sister and their veternarian friend who is more than he appears. Saburo and her sister are curious multicultural/multi-dominational mystics/psychics, displaying crosses and other Christian paraphenalia on their clothes and in their home, but practicing traditional Japenese magic and spritiualism. I like the sense of "whatever it takes to get the job done" that this conveys, that there's a little bit of truth in all religions. The first episode in the series sees Saburo called in by one of Japan's captains of industry in order to see if the skyscraper his company is building really is being haunted by evil spirits. Before she even arrives to take up her new job, her employer is killed in the latest of the mysterious disasters. Instead of walking away, she becomes deeper involved... to her own peril. The second episode has Saburo crossing paths with a post-cognative with whom she eventually teams up in order to solve the mystery surrounding a series of killings on the Tokyo underground. The mystical forces arrayed against the young medium are less formidable than those in the first episode, but the danger to her life and those she cares about is still very real. Both "Tokyo Babylon" episodes feature average animation, okay voice actors, and fairly decent stories. While the first episode serves as a nice introduction to the principal characters--summarizing relationships that I assume one could understand better if one had read whatever comic book the cartoon is based on--the second episode is far stronger story-wise... and far more chilling.
Steve Miller
Tokyo Babylon Quotes
There are no approved quotes yet for this movie.