Tokyo Twilight (Tokyo boshoku)
(1957)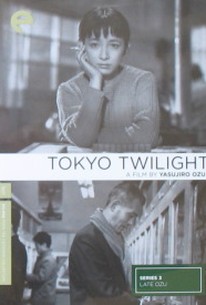 Movie Info
As Yasujiro Ozu's final black-and-white picture, the 1957 Tokyo Twilight explores the emotional landscapes and nuances within a strained Japanese family. Two daughters - Akiko (Ineko Arima) and Takako (Setsuko Hara) - grew up under the sold guardianship of their father, Mr. Sugiyama (Chishu Ryu) after their mother walked out on the family. This created serious psychological problems for both young women that extended well into adulthood: Akiko now spends all of her free time haunting bars and pachinko parlors, looking for her boyfriend, while Takako withdraws from a severely dysfunctional relationship with her alcoholic husband, by whom she has one daughter. In time, Akiko meets a woman who claims to know her as an acquaintance from their childhood neighborhood, and senses that the lady might actually be her mother. This film ventures into slightly darker psychodramatic territory than much of Ozu's work, by courageously dramatizing and exploring issues such as maternal abandonment, broken families and substance abuse.
Critic Reviews for Tokyo Twilight (Tokyo boshoku)
Audience Reviews for Tokyo Twilight (Tokyo boshoku)
½
This film is methodical in developing its tale of troubles for a Japanese family, which had a wife run away from her husband and two daughters when they were young, the older daughter (now grown) running away from her own unhappy marriage, and the younger daughter running with the wrong crowd and getting pregnant. Despite all these dark elements, the film is very prim and proper in its delivery, and rather quiet. The older daughter is played reasonably well by Setsuko Hara, but she's upstaged by Ineko Arima, who plays her rebellious younger sister. The scenes with Arima frustrated by her lover's games, dealing with an unwanted pregnancy, and wondering if she was the product of an affair of her mother's are among the best in the film. It was interesting to contrast the handling of abortion by director Yasujiro Ozu with that by 'new wave' director Nagisa Oshima (Cruel Story of Youth, 1960), and the American Robert Mulligan (Love with the Proper Stranger, 1963). The issues I had with the film all relate back to Ozu's direction. Early on in the film you'll notice actors often staring directly into the camera as they deliver their dialogue, particularly the father (Chishu Ryu). These simple shots seem dated, even for the time period. As the film progresses, it's too ponderous in many of its shots and scenes, such that it ends up being much too long at 140 minutes. Lastly, I disliked the fact that it was ultimately a morality tale. With a heavy hand, Ozu essentially tells us it's important to keep a marriage together even if it's unhappy, because one parent will not be enough. The message is dated, and his delivery lacks artistry.
Antonius Block
Super Reviewer
My second viewing of Tokyo Twilight was on the big screen. I loved it before, now I adore it. The second time allows you to appreciate the film even more, as the pacing is better when you know where it's going. The film focuses on the ever dependable Chishu Ryu. He has raised his two daughters after his wife up and left. His eldest daughter is in an abusive relationship. The youngest has an unexpected pregnancy. And his wife has recently returned to Tokyo. This unexpected return really messes with the youngest daughter who can't accept being an abandoned child. Even when dealing with heartbreaking situations Ozu usually finds some optimism in his stories. Tokyo Twilight is a lot darker. As the title would suggest, it teeters between lightness and darkness, but will eventually become night. Abusive marriages, unexpected pregnancies, family members returning. It's a recipe for great drama and in Ozu's careful fingers, he doesn't descend into melodrama. The film begins with Ryu as the protagonist, but it gradually moves towards the youngest daughter before going to Setsuko Hara. These changes keep the film interesting and allow all the plot elements to come together. His shots are sparse and focused. The music is light but aids each scene. As one woman stares at a child after a difficult decision, it's obvious to know exactly how she feels without any words being spoken, it's great cinema.
Luke Baldock
Super Reviewer
½
truly a beautiful film. the film is so simple that the same material in the hands of most any other director might have seemed pointless, dull, and without direction. in the hands of ozu it was profound, engaging, and more true to life than most other films ever made. this is ozu's gift, no bells and whistles, no fancy effects or rediculous melodrama, just real life on film that almost anyone can relate to. this was ozu's most criticised film upon its release because of the difficult themes of depression, suicide, and abortion, but the people are so genuine that i couldnt help but feel effected. some of the regular ozu cast members return and ryu specifically is becoming one of my favorites. a great film.
Tokyo Twilight (Tokyo boshoku) Quotes
There are no approved quotes yet for this movie.