Tokyo Joe
(1949)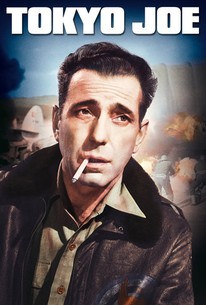 AUDIENCE SCORE
Critic Consensus: No consensus yet.
Movie Info
In this drama a heroic WW II Air Corpsman returns to his Tokyo home where he owned a nightclub. He left years ago after thinking that his wife had died. Upon his return, he discovers that his wife and daughter are very much alive. Unfortunately, she is now married to a lawyer. This doesn't stop the veteran from trying to win her back. While there the head of the Japanese secret service, blackmails the ex-flyer into flying smuggled war criminals into other countries with the information that the veteran's wife worked as a "Tokyo Rose" type of radio broadcaster. Later the pilot confronts her with this damning information and she explains that she was forced into it. Now the pilot must do all he can to get them all safely out of their difficult predicament.
Critic Reviews for Tokyo Joe
All Critics (4) | Fresh (2) | Rotten (2) | DVD (2)
In an era when Hollywood loved cut-and-dry endings, Tokyo Joe is notable for the way Humphrey Bogart's character never steps fully into the light, or out of it.
Not much to take away from this world-weary melodrama except for a lot of gloom.

Ozus' World Movie Reviews
Audience Reviews for Tokyo Joe
½
TOKYO JOE was the first film allowed to be made in post-war Japan...but I thought it was a missed opportunity when Bogart's production company, SANTANA PICTURES decided not to film the entire production there (in very much the same way that THE BIG LIFT was filmed entirely in post-war Berlin and utilized the services of UFA studios). Having scenes of Humphrey Bogart walking around post-war Tokyo could have lent an added touch of authenticity and maybe raise this above it's present reputation as a wannabe CASABLANCA. Bogart here plays Joe Barrett, a veteran returning to Tokyo where he once ran a successful nightclub called Tokyo Joe's. Barrett finds his establishment surprisingly still in one piece and in the hands of his japanese partner Ito (Teru Shimada). Barrett hopes to bring Tokyo Joe's back to it's former pre-war glory - if he can but overcome the bureaucracy of the occupation force and get the necessary permits. With only a 60 day visitor's visa, Barrett is pessimistic about regaining his business in time ...unless he can gain the aid of japanese underworld figure, Baron Shimada (Sessue Hayakawa) who has the connections to cut through the red tape...but at a high cost to Barrett (of course). In return, Baron Shimada wants Barrett to head a bogus air freight company for him - the purpose of which is to ultimately smuggle in underworld figures from Korea to foment unrest and destabilize the occupation government in japan. Complicating the matter is Barrett was once married to a russian woman, Trina (Florence Marly) who happened to be the torch singer for his nightclub. For reasons unexplained, Barrett had to leave Japan just prior to the attack on Pearl Harbor, which cuts him off from his wife - and is the biggest loophole I see with this story. I just can't fathom that Barrett had the foresight to leave his business in the hands of his partner, yet decide to leave his wife behind. Not with war clouds on the horizon. Barrett believes his wife died during the war. Ito tells him otherwise. Not only is she alive...but now married to one of the occupation force's top lawyer, Mark Landis (Alexander Knox). But Baron Shimada also knows a secret about Trina - which he plans to use for blackmail. Bogart's presence is what really makes this film more entertaining. His Barrett may not be as charismatic a character as Rick from CASABLANCA, but he's a bit more hard-edged here, IMO. Sessue Hayakawa never really lost his strong japanese accent despite living and being a big star in the USA during the silent era. His english is at times very hard to understand. Baron Shimada could have been written to be a bit more menacing and would have kicked things up a notch... The plot really had all the ingredients to be a top notch adventure/drama IMO. A missed opportunity also to show what it was like living in post-war Tokyo - during the US occupation as previously mentioned. Maybe with a bit more touch up on the script...? If only. 7 / 10
bernard anselmo
½
I picked this up despite middling reviews because, hey, it was Bogart, and it was pretty cheap. I figured, "What the hell, Bogie should be enough." By and large that was true. It's a pretty standard 40s suspense/thriller type movie, with Bogie as ex-Col. Joe Barrett, former owner of Tokyo Joe's, a "joint" (as he puts it) in Tokyo which he had "decided to make [his] hometown." Now he's returning about seven years later, after the war has ended and is given repeated run arounds by the occupying United States forces as he tries to re-establish himself. He's forbidden to enter his own former place of business, but ignores these orders and there meets up with his partner Ito, who gives him a polite brush; here we see one of the endemic problems with films of this age. Now, I should be fair--this is pretty nice and well-meaning in its approach to the Japanese, considering the time it was made. Nothing is made of them as a people on the whole, and this brush is Ito claiming social responsibility for Pearl Harbor, to which Joe says--"Oh, you were the one who planned the whole thing, huh?" A good sentiment--at least pointing out that no, they are not all responsible, but suggesting that it's not unreasonable for a lot of them to feel humbled by the way the US came in and treated them so nicely after bombing the crap out of them. Er, right. Maybe there's some basis in fact here, but the whole thing plays out like they very well should be sorry--as a society. Madness. Anyway, that was the only bothersome thing, beyond one social stereotype that makes an appearance late in the film, is handled poorly and comes off as a ridiculous attempt to be aware of a culture the writers were apparently not thoroughly up on. The rest of the cast is decent enough, with a plot that revolves around Bogie's old flame from Tokyo (of course, SHE's not fromTokyo, she's European...) re-appearing despite his belief that she's dead, and learning that there's a dark cloud of guilt hanging over her--and what Joe must then do to protect her. Things roll out pretty much as expected from here, and we come to the conclusion of the film about as we expect. Joe is basically another Rick, US citizen out for money and business in a foreign land, who secretly harbours immense patriotism which we see come out in a time of need. Blah blah. Not really all that great, but Bogie is always magnetic and charismatic, so it's a passing grade for it; an enjoyable bit of fluff. Dig that judo scene near the beginning--that whole bit with Ito is actually handled pretty well, previously mentioned stumble aside, and the judo looks not only "real" but pretty well choreographed. Shame the silly romance and hamfisted military/patriotic aspect had to rear their ugly heads, really. Still, worth seeing for fans of Bogart, I suppose.
R.C. Killian
Minor Bogart that lacks that snappy dialogue that a lot of his films have. Bogart does make this worth watching.
Anthony Stevenson
Tokyo Joe Quotes
There are no approved quotes yet for this movie.
Discussion Forum
Discuss Tokyo Joe on our Movie forum!