Tôkyô zonbi (Tokyo Zombie)
(2005)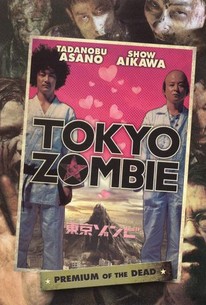 AUDIENCE SCORE
Critic Consensus: No consensus yet.
Tôkyô zonbi (Tokyo Zombie) Photos
Movie Info
Two dim-witted garage employees do battle with the legions of the undead after a massive trash dump in Tokyo starts spawning zombies in this outlandish horror comedy starring Tadanobu Asano and Show Aikawa. Fujio (Asano) and Mitsuo (Aikawa) may have paying jobs, but most of their time at work is spent perfecting their wrestling moves rather than getting things done. After accidentally killing their boss, the bumbling duo attempts to dispose of the body in Black Fiji - a massive trash dump where the locals throw away everything from old food to leftover refrigerators. But Black Fiji has just reached capacity, and as the zombie apocalypse begins, Fujio and Mitsuo must go to great lengths to preserve their friendship and save the human race.
Critic Reviews for Tôkyô zonbi (Tokyo Zombie)
There are no critic reviews yet for Tôkyô zonbi (Tokyo Zombie). Keep checking Rotten Tomatoes for updates!
Audience Reviews for Tôkyô zonbi (Tokyo Zombie)
Stars off cliche & diappointing but gets better & better as it proceeds, Aikawa & Asano are awesome, Some of the jokes fall flat but the film is a fun, unpredictable & refreshing experience with enough substance
Frequently insane and quite funny with two working class Japanese men, an older bald guy and his "Jujitsu student" fight zombies with jujitsu. Not swords, not guns, but face-smashing jujitsu. I thought this Japanese zombie film is good, but not quite great as well as it is just plain dumb. The film has been called the Japanese Shaun of the Dead. I see it. I think it's a stretch, but I see it. There's a similar style of dark humor and violence coupled with cheesy CGI. This film's biggest flaw is a lack of zombies. Sure, we have plenty of zombies, but there still seems to be a shortage -- there are periods of up to ten minutes without zombie action. These scenes are often filled with sentimental blather.
Dean McKenna
Super Reviewer
Tokyo Zombie is certainly a very unpredictable film, in a good way. It starts as a very acid zombie comedy, then about halfway it takes a Land of the Dead-twist, gets even more acid in the humour, and introduces some drama elements that just makes this a strange, but very rewarding combo. Some of the humour was a bit 50/50 with me, but eventually what really stands here is the incredible duo that Aikawa and Asano made. I just have to wonder why these guys never acted together before. Their master-disciple relation gives the film a dose of substance that other films of the genre certainly lack. There's also some social critique, Romero style, but in a very Japanese way. Remember those human batteries of The Matrix, those robots had it all wrong, they should had use the method they use in the future Tokyo of TZ. Even if the humour doesn't click with you there's a lot of things going on here to hook you. These days where everyone is doing a zombie flick is good to see that some still have some creativity in the genre.
Tsubaki Sanjuro
Super Reviewer
Tôkyô zonbi (Tokyo Zombie) Quotes
There are no approved quotes yet for this movie.