Tom Clancy's 'Netforce'
(1999)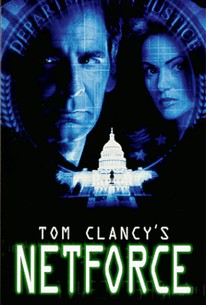 AUDIENCE SCORE
Critic Consensus: No consensus yet.
Tom Clancy's 'Netforce' Videos
Tom Clancy's 'Netforce' Photos
Movie Info
Best-selling author Tom Clancy was executive producer of this made-for-TV spy thriller, which debuted on ABC in 1999. In the year 2005, the FBI has established a special division --"Netforce" -- to investigate crimes committed using the Internet. Agents Alex Michaels (Scott Bakula) and Steve Day (Kris Kristofferson) are put on the case when software genius Will Stiles (Judge Reinhold) designs a Web browser that allows him to hack into Netforce's computer system and take control of the entire Internet for his own purposes. The supporting cast includes Brian Dennehy, Joanna Going and C.C.H. Pounder. While this was originally billed as "Tom Clancy's Netforce," Clancy neither wrote the screenplay nor directed the film; Netforce was written by Lionel Chetwynd and helmed by Robert Lieberman.
Critic Reviews for Tom Clancy's 'Netforce'
There are no critic reviews yet for Tom Clancy's 'Netforce'. Keep checking Rotten Tomatoes for updates!
Audience Reviews for Tom Clancy's 'Netforce'
I really don't even know where to begin on this. I am an avid fan of Tom Clancy as a writer and every so often a good adaptation of his work is made into a movie or a game, which tends to work out just fine. NetForce was a joke, a miserable piece of garbage that was plucked from the tread of someone's boot. I have read eight of the nine books in the Net Force series, with a new installment that I am looking forward to which is being released in February of 06. While reading through these books I thought to myself that this would make a pretty decent transition to cinema and I wondered why this had yet to be completed. I stumbled across this movie last week and you can imagine how excited I was to see that this book actually made the transition but, Scott Bakula as the lead...that concerned me but I rented it anyways in hopes of the best. This movie came off like a train wreck, the opening scene had Bakula in a van with a couple of the Net Force guys in a videoconference with the commander of Net Force and a judge. This videoconference was to secure a warrant so they could apprehend a big time internet criminal. Permission was granted and the Strike Team began its move into the building. Explosions rang out shortly after they entered the large warehouse and bullets began to fly. The team finds themselves pinned down at the bottom of a flight of stairs by two or three distant gunmen. How do they escape? Well...Mr. Bakula comes up with the brilliant idea of hoping in a forklift and driving straight towards the gunman...yeah a forklift. John Howard the head of the Net Force task team decided to give Bakula a hand by jumping on the back of said forklift and take out these gunmen as they slowly...slowly drive towards the end of the hall. Howard manages to take out the three gunmen in a very heroic fashion but ohh no there is a wall that the extremely slow forklift is heading towards what should they do? They both dive...yes dive off of the forklift and roll to safety...but what about the forklift? Mr. Bakula came to the logical deduction while rolling on the ground that the forklift's speed and size would not be big enough to make it through the wall so he decides to open fire on the rear of the forklift...and you guessed it, the forklift exploded in a great ball of fire as it rolled slowly through the wall. This of course was just the introduction to what inevitable becomes one of the worst movie adaptations to be based on a book. I challenge you to find one that is worse. I probably wouldn't have been as frustrated with this movie if they would have keep more closely to the book. They didn't do a very good job of developing the majority of the Net Force team and the director seemed to put a huge emphasis on making Bakula a combination of at least three characters from the book. I was not happy about the exclusion of one Julio Fernandez who was second in command of the Task Force and who had a history with John Howard, the dialogue between the two of them was one of my favorite parts while reading the books. Tony's character is another one of my biggest complaints about this movie...in the book she was a kick butt martial artist that would actually display her strength and ability by tossing large men around in the gym of the Net Force building. With out visual representation of her actually doing this her character comes off as soft and weak although we are suppose to accept that she is a strong character because Bakula says so. The assassination attempt of Alex Michaels and the "plot twist" at the end where so poorly done and did not follow the book at all. I did not want to return this movie to the video store, I wanted to launch into the air and shatter it to bits like a discus. I wish that I could convey how terrible this adaptation is in words but I find it to be almost impossible. For those of you that have picked up and read at least one of these books then I would encourage you to avoid this like you would avoid cancer.
Dan Johnston
Tom Clancy's 'Netforce' Quotes
There are no approved quotes yet for this movie.
Discussion Forum
Discuss Tom Clancy's 'Netforce' on our Movie forum!