Tomb Raider
(2018)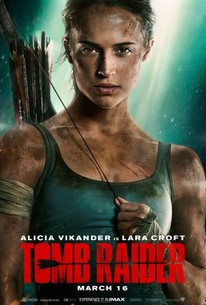 TOMATOMETER
AUDIENCE SCORE
Critic Consensus: Tomb Raider reboots the franchise with a more grounded approach and a star who's clearly more than up to the task -- neither of which are well served by an uninspired origin story.
Movie Info
Lara Croft is the fiercely independent daughter of an eccentric adventurer who vanished when she was scarcely a teen. Now a young woman of 21 without any real focus or purpose, Lara navigates the chaotic streets of trendy East London as a bike courier, barely making the rent, and takes college courses, rarely making it to class. Determined to forge her own path, she refuses to take the reins of her father's global empire just as staunchly as she rejects the idea that he's truly gone. Advised to face the facts and move forward after seven years without him, even Lara can't understand what drives her to finally solve the puzzle of his mysterious death. Going explicitly against his final wishes, she leaves everything she knows behind in search of her dad's last-known destination: a fabled tomb on a mythical island that might be somewhere off the coast of Japan. But her mission will not be an easy one; just reaching the island will be extremely treacherous. Suddenly, the stakes couldn't be higher for Lara, who--against the odds and armed with only her sharp mind, blind faith and inherently stubborn spirit--must learn to push herself beyond her limits as she journeys into the unknown. If she survives this perilous adventure, it could be the making of her, earning her the name tomb raider.
News & Interviews for Tomb Raider
Critic Reviews for Tomb Raider
Audience Reviews for Tomb Raider
½
Tomb Raider is perhaps one of the most storied franchises in gaming. Its first entry came in 1996, courtesy of Core Design and Eidos Interactive. PC gaming was awash with an endless glut of "Doom Clones" - a trend which would continue until Quake and Half-Life solidified First-Person shooters into something more substantial than cheap imitations. Tomb Raider didn't bother imitating the herd - it opted for a Third-Person perspective, a dual-pistol wielding female protagonist, and an emphasis on platforming - and all in glorious 3D. Its heroine, Lara Croft was seen both as a step forward for women in gaming AND a deeply sexist character tailor made for the male gaze of the gaming community, as she was complete with short shorts and large pixelated breasts. Conceptually she was also a cross between James Bond and Indiana Jones, leaning heavily on the Bond side with the wealthy Scottish background, posh British education, and cavalier attitude toward sex. The franchise would continue through the late 90's and early 00's and would devolve into a series of increasingly stale and unimaginative sequels. In 2013, Square Enix and Crystal Dynamics would give the series a much-needed reboot in the vein of Batman Begins and Casino Royale, with a dark, stripped-down origin story. The combat, shooting mechanics, and storytelling were inspired by the recent Uncharted games, while the platforming and open-world elements took from Assassin's Creed. The former of which is particularly notable, as Uncharted took inspiration from Tomb Raider, and now helped shape the Tomb Raider reboot. Lara Croft also went through extensive redesign. Gone was the cocksure, sociopathic Chaotic-Neutral protagonist of yore. Croft was now a naïve, fresh-faced college graduate who is forced to evolve and adapt under desperate circumstances. Lacking her trademark dual pistols with bottomless magazines, her weapons became a bow, a pickaxe, and whatever rusty WWII or Cold War era weaponry she could scavenge. Perhaps most controversially her physique changed. While the new Lara was still conventionally attractive and umm... quite... ample, she was realistically proportioned and no longer the cartoonish build that bordered on self-parody. Most gamers moved on without issue, but a few outliers decried it as a feminist hijacking of their favorite series. Either way, Tomb Raider 2013 was a success and it spawned a recent sequel, Rise of the Tomb Raider, that managed to outperform and improve on the original and ensure that the reboot timeline was here to stay. Inevitably, Hollywood wanted a piece of the treasure. Tomb Raider got two big-budget Hollywood movies - in 2001 and 2003. Like other video game flicks of the era, they were more tongue-in-cheek than anything else and barely resembled the games they were trying to emulate, other than character costumes. They were farcical, silly things that were moderately successful due to Angelina Jolie being a rising star at the time. Star + Concept and all. And to be fair she did nail the Lara Croft of that era, but the movies themselves were fairly shit. However, with the recent reboot and the new Lara - it was inevitable that Hollywood take another swing. So, we finally arrive at the point. The new Tomb Raider may be the best video game adaptation ever made. While many might say that doesn't amount to much or that I'm exaggerating, it should be noted that is of comparable quality to a recent number of video game pictures that are deeply flawed but are still acceptable popcorn entertainment (think Silent Hill, Prince of Persia, and Assassin's Creed.) Tomb Raider's focus, lead performance from Alicia Vikander, and the refreshing small-scale, realistic action make it a hair better than the rest. It very loosely follows the 2013 reboot and throws in some elements from Rise of the Tomb Raider, as well. Several of the action scenes work, in particular one using Lara's new favorite weapon and another involving a crumbling WWII Japanese bomber suspended over a waterfall, which was lifted wholesale from the game. Vikander fits into Croft's boots comfortably and like Jolie before her, seems to fit into that Star + Concept mold that Hollywood claims to chase for female action stars. I do think Tomb Raider would have been a great film had it stuck to the 2013 game a bit more. Lara was stuck on that godforsaken island for QUITE some time, forced to scavenge and hunt. She had to evolve over time. Plus, there were characters like Samantha and the other members of her crew that fleshed out the story. Mattias was not a generic villain, but a mad cultist who wanted to raise an angry goddess for selfish reasons. The inclusion of Lara's father and the organization Trinity are both from Rise of the Tomb Raider and are out of place here narratively. In other words, it's a bit overstuffed. But it's still worth a viewing. We are hinted bigger and better sequels. Who knows? We may finally get a truly great video game movie some day!
Joshua Sheetz
Super Reviewer
Forgettable and boring. This Tomb reboot is undoubtedly action-packed and enthusiastic, but fails to deliver in the narrative, hanging precariously onto the missing father - pining daughter trope that was more irritating than endearing. Couldn't help pining for Angelina Jolie who looked more the part of Lara Croft than Alicia Vikander.
Chrisanne Chin
Super Reviewer
½
Lara Croft was best known for her exaggerated physical assets (rendered as Madonna-worthy pointed polygons) and short shorts than as any sort of character. She was realized on the big screen in 2001's Tomb Raider as an elite physical specimen portrayed by Angelina Jolie, where the filmmakers went the added step of padding Jolie's bosom to better reflect the source material's image. The filmmakers literally thought this aspect would be make-or-break with fans, as if Jolie herself was not naturally vivacious enough. As you can imagine, Lara Croft was primarily seen as a sexy avatar, whether on the small screen or the big screen. This new Tomb Raider aims to better ground its story, tone, and central heroine, and it mostly succeeds. This is a solid, pleasantly enjoyable mid-tier action movie that might also qualify as the best video-game-to-film adaptation so far (sorry Uwe Boll). Lara (Alicia Vikander) is struggling in the wake of her father's (Dominic West) disappearance. It's been years but she holds onto hope that dear old dad is still out there. One day, she discovers her father's secret study and a video message he recorded confessing why he left. He's seeking a fabled tomb on a hidden island off the coast of Japan, a tomb devoted to a powerful goddess of myth who sacrificed her admirers. Also looking for the tomb is Vogel (Walton Goggins) and a team of armed mercenaries. Lara must stay ahead of the mercenaries, find her father and the long-lost hidden tomb. This is a Lara Croft stripped down and absent the male gaze, which has defined her travails just as much as the treasure hunting adventures. There's not a single shot in the movie that seeks to ogle Vikander's lean body. Even her outfit, as mentioned a staple of Croft's early appeal, is a modest take top and khakis. The emphasis this time is on what she endures and overcomes rather than the curvature of her body. This is an attempt at an origin tale, rebooting Lara for a new generation of fans. She's less the cool buxom sexpot with the twin pistols than a struggling young woman facing her fears. This is the first time Lara Croft has been envisioned as a character. There's a level of broader realism that the movie holds onto, positioning this Croft as less the gun blazing super cool badass and more as a stealthy, plucky, and scrappy figure of moderate action. There are moments where she hides and moments where she runs, as they are the best recourse. She's not imposing in her build and poise like a Gina Carano (Haywire) but Vikander's got some serious moves. With all that in mind, let's not get too carried away here. Lara Croft may have some extra dimensions but she's not exactly a fully formed, three-dimensional character or boasting the kind of magnetic personality that drew us to Indiana Jones or even a Nathan Drake. She's capable but also limited in interest and charisma. The action is invigorating enough and given a clear scope of play. Norwegian director Roar Uthaug (The Wave) orchestrates the action in clean long shots and precise edits, allowing the audience a clear sense of what is happening. A frantic bicycle chase and foot chase in the first act are given extra vitality by a roaming camera that takes in the full view. There's enough variety in the action and natural consequences to keep things interesting. This is a movie that doesn't feel overpowered with CGI, even though I know it's present. Uthaug makes a point of emphasizing practical effects and sets, which adds a further level of realism to the excitement. I'd call it a more pared down, realistic version of an action adventure but it still has outlandish set pieces like Lara finding refuge atop a crumbling WWII era bomber that just so happens to be wedged atop a rock face overlooking a steep waterfall. Even during these moments, and the last act takes place almost entirely within the ancient tomb and its traps, the movie keeps things relatively credible. It's fun without being too flippant and serious enough without losing its sense of amusement. Tomb Raider reminded me a lot of a big-screen version of an Uncharted game, a rollicking adventure that also feels rooted in our own world, but with a hint of the supernatural creeping along the edges. The conclusion has a few nice surprises following this pattern even with the possibility of actual zombies emerging. Vianker (The Danish Girl) acquits herself nicely in the realm of action-adventure. She gained twelve pounds of muscle and has a pretty impressive six-pack. Vikander is a smaller actress by nature but the filmmakers do a fine job of placing her in believable action scenarios that rely upon her athleticism. Her Lara is a stubbornly independent protagonist who refuses to give up, which makes her a winning force even when her personality fails to sufficiently light up the screen. Vikander hurls herself into the role, performing an impressive array of stunts, and yelping along to the genre demands. There are some plot holes that are hard to ignore, mostly pertaining to motivations. In the first act, we learn tat Lara is heir to a vast fortune of money and a big company that owns many other subsidiaries. However, she refuses to essentially inherit the company because it means having to sign papers declaring her missing father as deceased. I understand the character's rejection of wanting to accept her father's death, but when taken to this extent it becomes almost comical. Lara is seen scraping by for enough money to survive on her own. She's forced to pawn her heirlooms and work as a bicycle messenger. She's struggling to get by and yet her pride is standing between her and a massive fortune. This is just stupid. What's to stop Lara from signing the paperwork, inheriting the fortune, and using said fortune to continue the search for her father? There's also the motivation of her absentee father, who left to thwart the bad guys from finding the special tomb. However, he inadvertently leads them there because he was tracked. Had he not even left, the bad guys would not have found the island's location and he could have been in Lara's life. This is transparent potting to simply move the pieces across a board. Another example is Lu Ren (Daniel Wu) a ship captain ally she picks up that serves no real purpose other than ferrying her to the island. One character that benefits from motivation is the villain, Vogel. He's not some mustache-twirling rogue but rather a guy hired for a job that wants to go home and see his kids again. It's a nice, empathetic touch that makes Vogel grounded and a better fit. Tomb Raider is a smaller, leaner, and enjoyable little action movie of modest ambitions. That sounds very conditional, I'll admit, but it's a scaled-down version of an exaggerated character doing splashy, sexy, exaggerated action heroics. It's a stripped down reboot that grounds the action while still finding enough ways to have fun. It does get a little caught up in the edicts of an origin tale, overpowering moments with "First" significance (First Adventure, First Kill, First Fight, etc.). There are also some head-scratching plot holes that get glossed over to keep things moving along. Vikander is one tough cookie, and the film celebrates her brains as well as her brawn and absent any ogling camerawork. Tomb Raider is a suitably exciting action film that gives some hope for future Croft adventures. Nate's Grade: B
Nate Zoebl
Super Reviewer
Tomb Raider Quotes
There are no approved quotes yet for this movie.