Tombstone
(1993)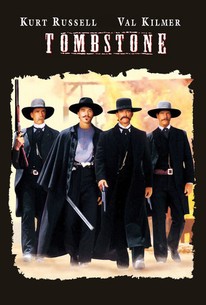 Movie Info
A high-energy action adventure based on legend rather than historical fact finds Wyatt Earp (Kurt Russell) desiring to retire from law enforcement. With brothers Virgil (Sam Elliot) and Morgan (Bill Paxton), he arrives in Tombstone, Arizona intending to build his fortune. He discovers that long-time friend Doc Holliday (Val Kilmer) is there and that the town is run by a group of brutal outlaws called the Cowboys. Earp, frustrated with his laudanum-addicted wife, begins a romance with traveling stage actress Josephine Marcus (Dana Delany). Meanwhile, the Cowboys terrorize the citizens of Tombstone unchecked. When the town marshal is killed by a Cowboy, Earp steps in to prevent a lynching by an angry mob. He also refuses to hand the killer over to his fellows, beginning the enmity between the Cowboys and the Earp brothers. Virgil, overcome with guilt at doing nothing to help the Tombstone citizens, accepts the position of town marshal. With Wyatt and Morgan as his deputies, and the help of Doc, Virgil attempts to arrest several Cowboys, resulting in the famous OK Corral shoot-out. The Cowboys take revenge by ambushing two of the brothers and injuring Virgil and killing Morgan. The Earps leave town, apparently cowed. Wyatt returns, wearing the badge of a U.S. marshal, vowing to destroy every last Cowboy. He hunts them mercilessly, until the leader, Johnny Ringo (Michael Biehn) challenges Wyatt to a duel. While not regarded as an artistic masterpiece, "Tombstone" is considered the best of director George P. Cosmatos' prolific films. The all-star cast (including Thomas Haden Church and Billy Bob Thornton in small roles) delivers solid performances. Both William A. Fraker's cinematography and Bruce Broughton's stirring musical score are expertly designed for dramatic effect. Blood is shown liberally in several key scenes, but seems intended to show that there is nothing glorious in Wyatt Earp's actions, only necessity. He and his deputies take on the symbolism of the horsemen of the apocalypse -- dispensing judgement, and the Biblical references form a symmetry at the beginning and end of the film. ~ Lucinda Ramsey, Rovi
People Who Like this movie also like
Critic Reviews for Tombstone
Audience Reviews for Tombstone
[img]http://images.rottentomatoes.com/images/user/icons/icon14.gif[/img]
Directors Cat
Super Reviewer
I was very much looking forward in seeing Tombstone as I had heard plenty of good things about it, I eventually was able to see this one, and although it is not the best Western as what everyone has claimed, this is still an entertaining action film with some good performances. Kurt Russell and Val Kilmer deliver the best performances here along with Powers Booth and they all bring something worthwhile to the screen. Tombstone is far from the old Sergio Leone Westerns, which were epic in scope and storytelling. This is a movie that tends to be more action oriented than give the viewer a straight forward well layered plot that you can really get into. It's not a bad thing, but it does make you want more out of this movie. Overall this is a good movie, but one that does fall short of many other Westerns that we've seen before. Luckily Director George P. Cosmatos keeps the action thrilling and interesting and you are well entertained for its two hour run time. If you love the genre, Tombstone is worth checking out, but be warned, it is far from the classic Westerns, and it does lack the effective storytelling and immaculate performances that have made the old school Westerns such a treat to watch. However for a straight forward Western action film, Tombstone delivers good action and is a fun movie, but it does leave a lot to be desired. It is not the movie that could have been, and it could have been improved upon. With a good cast of talented actors, Tombstone is a fun popcorn film, but it doesn't rank up there with the best Westerns movies either. There are still enough gun fights in the film to entertain the most devoted fan of the genre. Tombstone for all its faults is a fun ride.
Western concerning the legendary hero Wyatt Earp (Kurt Russell) who wants to start over with his brothers (Sam Elliot, Bill Paxton) in a new town, only to run into a group of outlaws who will do anything to stifle his desire to begin a new life. Average Western is mostly an interesting combination of facial hair (with Russell's ridiculous mustache winning the prize) and a laughably awful love subplot (somehow trying to romanticize Earp for CHEATING ON HIS WIFE), but the charm and blazing gun battles especially in its last half hour keep it watchable. Acting is pretty decent, with Val Kilmer taking the cake as Earp's friend Doc Holliday, for whenever he's on screen this thing becomes ten times more interesting. Not even close to the best Westerns ever made, but certainly entertaining enough to stick with it, even if it is Hollywoodized at times to a sometimes unbearable degree.
Dan Schultz
Super Reviewer
Tombstone Quotes
| | |
| --- | --- |
| Doc Holliday: | Ed, what an ugly thing to say... does this mean we're not friends anymore? You know, Ed, if I thought you weren't my friend, I just don't think I could bear it. |
| | |
| --- | --- |
| Doc Holliday: | Oh, Johnny, I apologize; I forgot you were there. You may go now. |
| | |
| --- | --- |
| Doc Holliday: | Maybe poker just isn't your game. I've got an idea let's have a spelling contest. |
| | |
| --- | --- |
| Doc Holliday: | Maybe poker just isn't your game. I've got an idea let's have a spelling contest. |
Discussion Forum
Discuss Tombstone on our Movie forum!