Tomie: Saishuu-shô - kindan no kajitsu (Tomie: The Final Chapter - Forbidden Fruit)
(2002)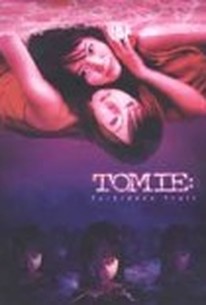 AUDIENCE SCORE
Critic Consensus: No consensus yet.
Tomie: Saishuu-shô - kindan no kajitsu (Tomie: The Final Chapter - Forbidden Fruit) Photos
Movie Info
In this final installment of the long-running film series adapted from manga writer Junji Ito's wildly successful comic series, the constantly regenerating titular character returns to terrorize an artistically inclined young girl and her widowed father. Slowly integrating herself into the family as she casts a mysterious spell on the lovelorn father, Tomie (Nozomi Ando) nearly causes the grieving widower to kill his own daughter before he snaps out of the hypnotic spell -- dismembering Tomie and dumping her body into a nearby river. When his daughter discovers the disembodied but still-living head of Tomie, she too falls under the mysterious creature's overpowering spell and begins helping Tomie to regenerate a new body. ~ Jason Buchanan, Rovi
Rating:
NR
Genre:
,
Directed By:
Written By:
In Theaters:
On DVD:
Runtime:
Cast
Critic Reviews for Tomie: Saishuu-shô - kindan no kajitsu (Tomie: The Final Chapter - Forbidden Fruit)
There are no critic reviews yet for Tomie: Saishuu-shô - kindan no kajitsu (Tomie: The Final Chapter - Forbidden Fruit). Keep checking Rotten Tomatoes for updates!
Audience Reviews for Tomie: Saishuu-shô - kindan no kajitsu (Tomie: The Final Chapter - Forbidden Fruit)
tomie is so predominantly popular that the name itself has become a slang in asia. it means, something you cannot kill off and it resurrects over and over again to haunt you with the same issue which has been disturbing you. you could say stuff like, this thing is just a tomie! you gotta have a grasp of the japanophilic side of asia to comprehend or apprehend its eccentric allure. it's been one of the most popular horror series in japan, the equivalent of clive barker's hellraisers (which also has way too many series)..this is probably one of few best ones among this series. tomie is a fantastical womanly creature which possesses the power to charm everyone, accordingly she represents the ideal form of beauty. any part of her body, such as hair or her limbs, could sprout clones if you place any bit of her on you as a girl who wishes to be improve her looks would place some of tomie on her until she's no longer herself but just another tomie clone. tomie takes sadistic pleasure in charming the man then cockteasing him, at last humiliating him so that he harbors a murderous rage to kill her off and dismember her body-parts despite all his effects will be in vain at the end because tomie is unkillable.(mental sadism from physical masochism?) in a brief, tomie is an embodiment of nightmare within cultural misogyny as well as the fetishistic cult of beauty: she's meant for merciless seduction and the ruin of her admirer's peace of mind. what makes this one particularly interesting is the discussion on the subtle elements of sublimated female homoeroticism within adolescence. the protagonist is a meek--mannered plain jane whose best wish in life is to have a female best friend who could save her from the teenage hell of loneliness. then tomie steps into the picture, a gorgeous best-friend seems to drop from heaven above to nurture this plain jane who has been wishing for her female messiah all throughout her life. later, it turns out that her father also carries a torch for tomie ever since his youth (tomie doesn't age, you know). thus, this pair of father and daughter are all enamor of this monstrous but irresistibly striking creature, who is not even human. the plot takes a twist as tomie tries to persuade the father into killing off the daughter ("if you could kill her off, we could be in love again as we used to be"...that sort of scenario, you know)..then the next would be, both the father and daughter collaborate together to eradicate tomie: freezing her into a giant ice-bar, any form to disintegrate tomie's body-parts to keep her from resurrection so that she won't come into life again to torture you with her deadly charm. (standard formula of this series) it also features the part that the girl tries to babysit tomie by taking her head back home to nurture until tomie regenerates herself into complete human form, again. still, all her effects aren't well-appreciated but dismissed in a contemptuous way. (spoiler) the diabolic disclosure in the end would be, the girl still wants to start anew with tomie after all the traumatic disasters tomie has been bestowing on her and her family. eventually, she's still obsessed with tomie, and she secretly takes tomie's ear, locks it in her desk-drawer, and patiently waits for it to grow into tomie in complete human form because she could never give her up, there's also some void in her that wishes to be fulfilled by something as TOMIE. what could be more nightmarish than this? (ps) here i am associating this with the pun from classic-noir "out of the past"...nightmare concerning love always comes from the protagonist/the beholder's obsessive wish to RESTORE THE PAST, relive the past..just like fitzgerald the great gatsby, if gatsby doesn't try to rekindle his romance with daisy, he might as well just be all right as a bootlegger with a fancy front, right?
Veronique Kwak
Super Reviewer
½
The lives of middle-aged widower Kozu (Kunimura) and his lonely, outcast teenaged daugther (Miyazaki) are turned into a morass of nightmares and violence when she is befriended by a new girl at school, Tomie (Ando). "Tomie: Forbidden Fruit" is the fifth movie based on Junji Ito's supremely creepy "Tomie" horror comics about an unkillable girl/ghost/demon who uses her women wiles to lead men to cause suffering, mayhem, and death whereever she goes. More often than not, Tomie herself dies horribly during the mayhem, but she always comes back from death in ways that are more horrific than the time before. [center][img]http://www.geocities.com/nuelow/movtomiefruit.jpg[/img] [i]Nozomi Ando as Tomie, the fifth actress to play the character in as many films[/i] [/center] Like most of the "Tomie" movies, "Forbidden Fruit" never manages to inspire in the viewers the horror and dread that Ito's tales do. In fact, the emotion you'll feel most often while watching this film is boredom. particularly if you've read the comics or seen any other of the "Tomie" films. There is very little new that's brought to the Tomie tales with this film. The only interesting aspect of the story is that Tomie is two generations of the same family in the film, trying to twist both father and daugther to her will. But this is really too small of an aspect to make the film worth your time. The film is further dragged down by some very bad choices on the part of the writer and director. Tomie has never come across as the smartest of demons/temptresses, but here she comes across as downright stupid. Early in the film, she tries to get Kozu to kill his daughter "so they can be together like before" but this causes him to turn on her and cleave her skull with an axe--it makes him see her for the monster she is. Later, during the movie's climax, she tries the same trick [i]again[/i]. It didn't work the first time, so why does she think it'll work the second time? To make it even worse, this replay of the "kill your daughter so we can be together" ploy is part of a a final five-ten minutes of run-time that ruins what could otherwise have been an incredibly creepy "happy ending" with both father and daughter gazing upon Tomie frozen inside an iceblock while eating potato chips and agreeing on how pretty she is and how much they both love her. It could be the filmmakers were trying to illustrate that Tomie is all about repeating patterns, but all they ended up doing was screwing up a potentially great ending, a screw-up so bad that it cost the film at least one Rating point, perhaps even two. (Heck, if they'd gone with the movie's REAL ending--with Tomie frozen in the liceblock--it could even have lived up to the film's title.) Although well-acted and featuring moody and well-executed camera work, "Tomie: Forbidden Fruit" is done in by a weak script that fails to live up to the potential of the source material and a desire to heavy-handed drive home the point that there is never a "final chapter" where Tomie is concerned. (BTW, I don't really spoil anything by revealing that Tomie gets frozen in an iceblock toward the end of the film. It's an event that's teleraphed early on, and you'd have seen it coming even if I hadn't mentioned it.) Tomie: Forbidden Fruit (aka "Tomie: The Final Chapter") Starring: Nozomi Ando, Aoi Miyazaki and Jun Kunimu Director: Shun Nakahara
Steve Miller
½
When did I become a dermatologist? heh.... I am making a fortune..... I am getting tired..... Help me break down these walls .....
Kitty Wong
Discussion Forum
Discuss Tomie: Saishuu-shô - kindan no kajitsu (Tomie: The Final Chapter - Forbidden Fruit) on our Movie forum!
News & Features