Tonta tonta pero no tanto
(1971)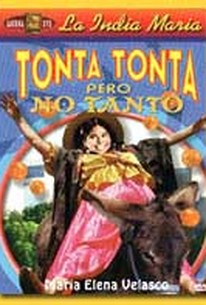 AUDIENCE SCORE
Critic Consensus: No consensus yet.
Movie Info
When an Indian woman from San José of the Burros leaves her friends and family behind to seek out a job that has been promised to her in the big city, she soon finds that live in the urban jungle is far different from the laid-back pace of life in her quiet hometown in a classic Mexican comedy starring Maria Elena Velasco.
Rating:
NR
Genre:
, ,
Directed By:
On DVD:
Runtime:
Studio:
Diana International Films
Critic Reviews for Tonta tonta pero no tanto
There are no critic reviews yet for Tonta tonta pero no tanto. Keep checking Rotten Tomatoes for updates!
Audience Reviews for Tonta tonta pero no tanto
½
I've seen a few translations of this title on the web: Foolish, Foolish But Not Much, and Silly, Silly But Not Stupid. You get the idea. The character of La India Maria is in the tradition of the wise fool. She may seem simple, but she regularly outsmarts those who think themselves smarter than she. This is the first feature-length film revealing the character of La India Maria, created by Maria Elena Velasco. Maria Elena Velasco's talents are evident as she plays La India Maria with confidence and complete knowledge of her character. Her facial expressions, timing of delivery and her physical humor reveal an instinctive comic genius. Maria Elena Velasco was also an editor, writer, director and producer -- an uncommon occurrence for the time in Mexico or The U.S. Those multiple accomplishments remain uncommon for men and women today. Tonta Tonta Pero No Tanto has a literate script. Not understanding much Spanish, I could tell that many of the jokes relied on language as opposed to some of her other films reliance on more physical gags. It is hard to rate this movie as much of it went under my radar, but it seems to be one of her best. However, it is frustrating and disappointing to find online very few descriptions of the plot. I'll try to outline some of the action below (potential spoilers): Maria leaves her family to seek out a job in the big city. Upon arriving she immediately gets ripped off and cannot contact her cousin. In a mix up she gets into the car of crazy Countess Julia but the car's driver tells her to move on. Maria happens upon a television studio and gets in front of the camera to hopefully make contact with her cousin. When she finds her cousin, she discovers that her cousins' boyfriend/husband is the Countess Julia's driver she had met before and she eventually gets work as the Countess' housekeeper. The Countess has servants of her own and they, along with the Countess' niece and nephew/boyfriend(?), are after her money. Somehow Maria also ends up cleaning a doctor's office and she discovers the doctor's dead body, or so it would seem. It is later revealed to be some kind of cover up and Maria alone is the one to solve the mystery. There are some funny characters -- two detectives and a couple of guys with nervous tics -- so you can see that there are talented people in the cast. This is a fairly involved plot and not being able to understand Spanish is a definite drawback, but the charm of the production and the lovable character of La India Maria above all make this a very watchable film. In the end, Maria discovers that she is entitled to a large sum of money as a reward and after thinking about it briefly she is shown to have opened a school with her funds. That's La India Maria!
Dr. Jitters
Tonta tonta pero no tanto Quotes
There are no approved quotes yet for this movie.