Tony Takitani
(2005)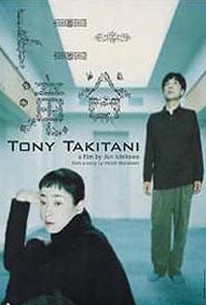 Movie Info
Due to his Western name, Tony was shunned by other kids and spent a solitary childhood. Though gifted as an artist, his drawings lacked feeling, so as an adult, he carved a career as a technical illustrator. Then in middle age, Tony suddenly falls for a pretty young woman, Eiko Konuma, who visits him one day on business. Eiko is like an angel in Tony's daily existence, and for the first time in his life, he feels connected to the outside world. However, Eiko does have one fault: she's a clothing shopaholic. Confusion also begins to develop when it appears that Eiko has a double.
News & Interviews for Tony Takitani
Critic Reviews for Tony Takitani
Audience Reviews for Tony Takitani
½
Beautiful, but slow and subtle. Captures isolation perfectly. Nicely filmed with sad mood throughout. Unusual and worth a look.
Nicki Marie
Super Reviewer
½
I couldn't imagine how one of Murakami's stories could be captured on film. But I must say, that Jun Ichikawa did a great job! I loved how the characters seemed to belong in the clean and simple surroundings they were in. It was consistent with the way Murakami describes his characters and their surroundings. I don't know man, I'm not a critic, I'm a fan, and Ichikawa can count on my support :)
½
An extremely quiet movie, so if you're into action, this isn't for you. This one captures best the mix of loneliness, discovered love, and missed opportunities for connection -- all hallmarks of Haruki Murakami's fiction. The very last telephone hang-up touches the very core of Murakami's vision of modern life and love. Although this film is less "magical" than Murakami can be at the height of his stories, there is at least quirkiness which could easliy turn magically into something surreal. Good examples are the car accident that results from an obsession with clothing, or the empty closet dream sequence. Putting Murakami on film with any kind of truth to the text must be a daunting task.
Lanning : )
Super Reviewer
Tony Takitani Quotes
There are no approved quotes yet for this movie.