Tootsie
(1982)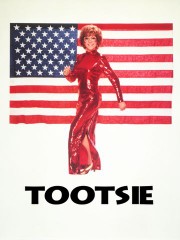 Tickets & Showtimes
Tootsie Trailers & Photos
Movie Info
Michael Dorsey is a talented actor, but his demanding nature and stubborn temperament have antagonized every producer in New York. Now his agent insists no one will hire him. But Michael needs money - eight thousand dollars to be exact - and to earn it, he's willing to play the role of a lifetime. Dustin Hoffman stars with Jessica Lange, Teri Garr, Dabney Coleman, Charles Durning, Bill Murray and Geena Davis in director Sydney Pollack's heart-filled classic that heralded a new era of Hollywood wig-flipping and set a new standard for unpredictable laugh-out-loud comedy.
more
Cast
News & Interviews for Tootsie
Critic Reviews for Tootsie
Audience Reviews for Tootsie
A "meaningful" comedy about sexual equality in the workplace (from a male's POV) has it's moments, both of groaning awkwardness and of genuine mirth. It's insight into the world of trying to make it as an actor in New York is where the film is strongest. When released it was kind of a big deal, but it never gets away, not for a single second, from just how bad Hoffman looks dressed as a woman. And the situation alluded to, the inequality of women in the workplace ... ? That hasn't gone anywhere.
½
A funny, well-acted story concerning a failing actor with an attitude (Dustin Hoffman) who is forced to take drastic measures and dress as a woman for a role in a popular soap opera. This thing is all Dustin Hoffman, as he turns in one of the best performances of his well-decorated career as an actor playing many different roles. Sure, the movie is predictable and there is the cliche romantic interest, in this case Jessica Lange, but it remains hilarious throughout thanks to a fair balance of slapstick and verbal humor that comes across very well. Sydney Pollack's charming, effortlessly constructed screenplay translates into a breezy comedy that flies fast and does not overstay its welcome. Perhaps a little over-rated, not a great film, but definitely a good one.
Tootsie Quotes
Michael Dorsey/Dorothy Michaels: What kind of mother would I be if I didn't give my girls tits tips?
Michael Dorsey/Dorothy Michaels: I was a better man with you as a woman than I ever was with a woman as a man.
Jeff: Mike, I really appreciate you're doing this, but it is just for the money. Isn't it? It's not just so you can wear these little outfits.
Michael Dorsey/Dorothy Michaels: I'm not even gonna answer that.
Les: The only reason you're still living is because I never kissed you.
Discussion Forum
Discuss Tootsie on our Movie forum!
News & Features