Top Cat: The Movie
(2013)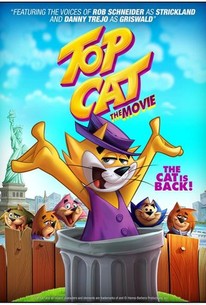 AUDIENCE SCORE
Critic Consensus: No consensus yet.
Movie Info
A new police chief wants to automate the police force, including Officer Dibble's job, whose task it is to keep an eye on Topcat. Topcat quickly realizes a capable new police force will spoil his chances of continuing to get away with his shenanigans, so he sets out to foil Chief Strickland's plans and save the city from a fleet of robotic officers terrorizing the town. -- (C) Viva Pictures
Critic Reviews for Top Cat: The Movie
All Critics (2) | Fresh (0) | Rotten (2)
Classic cartoon's update isn't funny; edgier than original.
The lure of 3D effects turn bad writing into an aesthetic horrorshow that is best avoided at all costs.
Audience Reviews for Top Cat: The Movie
I LOVED the animation.It's the 1st time I ever seen animation like it & I think it looked pretty cool.OK, That's the best & only good thing I can say about the movie.Other than that, Top Cat SUCKED!!! I tried watching the entire movie (Probably because I enjoyed the animation so much) but I just could NOT do it.Top Cat is a movie I don't think kids would even be able to sit through.The storyline & jokes were just straight up BORING, CORNY & LAME..I enjoyed the original Top Cat cartoons so I was hoping to enjoy this movie but I didn't at all.It might be worth watching for a couple minutes just to check out the animation but that's about it
Brody Manson
Super Reviewer
Its upsetting for such a classic like Top Cat to be reduced to a movie that doesn't even touch the basics of the legendary cartoon. Aside from one little laugh, the attempts of creating comedy are rather poor. There are many reasons of why this film is disappointing; plot, animation, voice acting etc. Overall, this film won't grip children, and espescially won't grip Top Cat fans. This is film is so below standards, it almosts ruins the basis of my childhood.
Samuel Riley
Super Reviewer
Top Cat: The Movie Quotes
There are no approved quotes yet for this movie.