The Topp Twins: Untouchable Girls
(2011)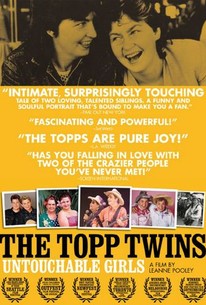 The Topp Twins: Untouchable Girls Photos
Movie Info
Argot Pictures is proud to present the US theatrical release of 'The Topp Twins: Untouchable Girls' a documentary by Leanne Pooley. Winner of numerous awards, including Best Feature Documentary at New York's NewFest 2010 and the Cadillac People's Choice Award at the Toronto International Film Festival 2009 'The Topp Twins: Untouchable Girls' tells the story of the world's only comedic, singing, yodeling lesbian twin sisters, Lynda and Jools Topp, whose political activism and unique brand of entertainment has helped change New Zealand's social landscape. In the process they have become well-loved cultural icons. The film will open in New York at Cinema Village on May 13. Other cities will follow. This is the first time that the irrepressible Kiwi entertainment double act, Jools and Lynda Topp's extraordinary personal story has been told. As well as rarely seen archive footage and home movies, the film features a series of special interviews with some of the Topp's infamous comedy alter-egos including candid chats with the two Kens, Camp Mother and Camp Leader, the Bowling Ladies and the Posh Socialite sisters, Prue and Dilly. The Topp Twins have attained a unique status within New Zealand culture, and their fans range from hard core political activists, to sheep farmers and 'Ladies who Lunch'. Their ability to relate to all kinds of people, and their natural gift for humour, has helped them cross from the fringes to the mainstream. It has often been said that if the story of the Twins was fictional nobody would believe it. From rural backwaters to busking on the streets of Auckland, to performances at the Rugby World Cup and London's West End stage, their appeal is infectious. From support act to Split Enz, Billy Bragg, and Midnight Oil to headlining their own hugely successful tours in Australia, Canada, the USA and Britain. The twins have morphed from radical activists into Kiwi 'national treasures', 'cultural ambassadors', and finally, according to the Glasgow Herald, into New Zealand's 'finest artistic export since lamb cutlets!' 'The Topp Twins: Untouchable Girls' follows the girls from their happy childhood on a Waikato dairy farm - where they grew up singing to the cows - to the Territorial Army where they quickly became the Vera Lynns of their battalion. They came of age performing on the streets of Auckland during the heady days of the political protest marches in the early 80s, and quickly joined the forefront of progressive social change campaigning for a Nuclear-Free NZ, Maori Land Rights, a halt to the1981 Springbok Tour, and Homosexual Law Reform. By 1998 only a decade later, Lynda Topp, as Camp Mother, came close to winning the mayoral elections in Auckland, and the Topp Twins were firmly entrenched in the bosom of Kiwi culture with their own prime time TV Series 'Do Not Adjust Your Twinset'. 'The Topp Twins: Untouchable Girls' is not just the story of two sisters but also of 50 years of New Zealand history. Half a century of cultural changes and the foundation of a national identity. Part concert film, part biopic, part historical record, part comedy, the Twins share their journey from "coming out" to Jools' recent brush with Breast Cancer with much laughter, honesty and wisdom. It is a film about two truly unique New Zealanders, which ends up saying as much about us as it does about them. 'The Topp Twins: Untouchable Girls' is directed by award-winning ex BBC documentary filmmaker, Leanne Pooley. Director of Photography role was shared by Leon Narbey ('Whale Rider'); one of New Zealand's most acclaimed cinematographers, and Wayne Vinten, (Best Cinematography NZ Screen Awards 2008). The film was produced by Arani Cuthbert of Diva Productions, who has also managed the twins for much of their career and produced their popular TV series. -- (C) Argot
News & Interviews for The Topp Twins: Untouchable Girls
Critic Reviews for The Topp Twins: Untouchable Girls
Audience Reviews for The Topp Twins: Untouchable Girls
½
Probably the most joyous documentary I've ever seen. Tells a unique and fascinating story and filled with love, genuine people, and music.
Sunil Jawahir
Super Reviewer
½
Irresistible documentary about twin yodeling, country singing, lesbian comedians from New Zealand. Traces their career from their humble beginnings on a rural farm, to their political activism, to their current status as national icons, "The Topp Twins: Untouchable Girls" is an utterly delightful and heartfelt doc about two unique and indomitable talents.
Matthew Lucas
Super Reviewer
The Topp Twins: Untouchable Girls Quotes
There are no approved quotes yet for this movie.