Torrente 4: Lethal Crisis 3d
(2011)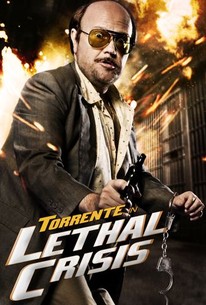 AUDIENCE SCORE
Critic Consensus: No consensus yet.
Torrente 4: Lethal Crisis 3d Photos
Movie Info
Locked up in prison on false charges, boorish detective Torrente (writer, director, star Santiago Segura) plots his escape by organizing a football match between the guards and the inmates in this installment of the outrageous Spanish film series. Although the plan goes awry, Torrente still manages to make a daring escape. Free again, he begins plotting his revenge against the scheming businessman who had him incarcerated. Kiko Rivera, Canita Brava, and Xavier Deltell co-star.
Critic Reviews for Torrente 4: Lethal Crisis 3d
There are no critic reviews yet for Torrente 4: Lethal Crisis 3d. Keep checking Rotten Tomatoes for updates!
Audience Reviews for Torrente 4: Lethal Crisis 3d
½
I may have already said this in one of my previous reviews for other films in this franchise, but Santiago Segura, at least as it relates to this film and its universe, really is the Spaniard Adam Sandler. Which is funny when you take into consideration that Santiago played a role in Jack and Jill, a horrifyingly terrible movie. Torrente and Adam Sandler characters, who is essentially the same character in each film, do horrible things. They're racists, they're misogynists and homophobes. The one difference being is that Sandler, at the end, goes 'well I'm not really such a bad guy after all since I changed for the better' which is supposed to make all his character's flaws somehow be forgotten. Like he wants you to forget how shitty of a person he was prior to his "positive " change. Which is even worse when you really think about it. Say what you will about Torrente, but at the very least this guy, and by extension Santiago Segura, completely embraces the character's most hateful aspects and doesn't really try to change him into a better person by learning something about those people he may have a great dislike of. I think that's riskier than doing and saying all of these horrible things and then saying 'it's ok, it's ok, we were only kidding'. With that said, much like every Torrente film, you can expect a lot of really mean-spirited jokes from Torrente and not a lot in the way of story. Though, to be fair, I will say that this movie is, slightly, tighter scripted than any of the previous Torrente film. It's not like there's any story whatsoever to speak of, but at least there's more of a hint of one. And that, to me, makes this the best of any of the Torrente movies. We need to keep things in perspective, of course, as no Torrente film that I've reviewed has received a rating higher than 1.5 stars. So that should tell you a lot about the quality of the films when this is the best of them all. And it's not even that the jokes are funnier, because, essentially, this is the same movie with the same jokes. But as far as structure goes, this film is superior to any of the films in this franchise. I'm not trying to suggest that this film is good, and you can notice that given the rating, because it still is a fairly bad movie. There are some funny moments here and there, but the film is really unfunny for a large part of it. I said this in my review of the third Torrente film, but I think that they're using satire to hide behind the fact that the movie just isn't funny. It'd be one thing if there was some real effort put into the comedy, but it's just the laziest and cheapest stuff in the book that, literally, takes no effort. I could write this same movie myself without any even trying and I think that's the problem. Call it satirical, call it whatever you want, I don't really care, but shitty comedy is shitty comedy. The fact that it's a satire doesn't instantly automatically afford it a level of intelligence or wit. It doesn't make the movie smarter than it is. I think that's what a lot of people misunderstand satire, like it somehow means that the comedy is smartly written. Satire can be as poorly written, or as dumb, as any kind of comedy, the Torrente films being prime example of that. That and some of the more recent episodes of Family Guy. So don't misunderstand the meaning of the word satire, this is not a well-written comedy. As always, I do think that Santiago Segura is good as Torrente. He's a complete sleazebag and I don't think Santiago shies away from the character's worst traits. That's the thing, as far as a performer, Santiago is actually good. He might not be the best, but I think he's got some talent. Sadly, though, those talents are limited to in front of the camera and not necessarily behind it. And that might not even be fair to say as the Torrente films are the only stuff of his I've seen that he actually had a dominant creative involvement in. I should probably wrap this up by now, but this isn't a particularly good movie, even if it ends up being the best of the franchise, that I've seen. It's typical Torrente, if you loved the previous films then you'll love this. If you hated them then this will not win you over. There is no middle ground. Bad movie.
Jesse Ortega
Super Reviewer
Torrente 4: Lethal Crisis 3d Quotes
There are no approved quotes yet for this movie.
Discussion Forum
Discuss Torrente 4: Lethal Crisis 3d on our Movie forum!