Torrente: The Protector
(2005)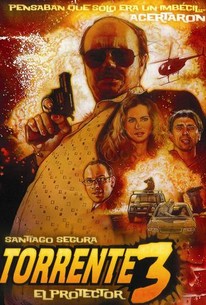 AUDIENCE SCORE
Critic Consensus: No consensus yet.
Torrente: The Protector Photos
Movie Info
The Torrente saga continues in this irreverent sequel that finds the slovenly Spanish detective hired to protect a whistle-blowing politician. Determined to prevent the pretty young politician from exposing their nefarious business dealings, a corporation's top brass selects the most inept bodyguard they can find to become her protector. Little do they realize that despite his outward incompetence, Torrente (writer/director/star Santiago Segura) has an uncanny knack for getting the job done. Jose Mota, Javier Gutierrez, and Yvonne Scio co-star.
Critic Reviews for Torrente: The Protector
There are no critic reviews yet for Torrente: The Protector. Keep checking Rotten Tomatoes for updates!
Audience Reviews for Torrente: The Protector
You honestly have to wonder what Santiago Segura's connections are in Hollywood that he can both John Landis and Oliver Stone to make cameo appearances in this film. I do know that he has appeared in a lot of Guillermo Del Toro's films and maybe that has been parlayed into making connections with certain influential people who may have put him in touch with both Landis and Stone. I do not even know why I started off with that, but these cameos just threw me off, particularly the Oliver Stone one. I've already reviewed three films in this franchise and I must say that they're getting worse with each sequel. Granted when the first film in the series is bad, then the drop in quality isn't as obvious as, say, Godfather 2 to Godfather 3. It still is fairly notable, though. With that said, and this is something that I've mentioned in my previous reviews of Torrente 1 and 2, and that is that I appreciate the fact that there's a character like this out there. A character that simply does not give a shit about who he pisses off, whether it be women, Arabs, blacks, asians, native indians, homosexuals, etc. This is the type of character that simply cannot exist on this side of the world without a gigantic controversy regarding the content of the film. Personally, and people are entitled to think what they want, I believe that the character is meant to be more satirical than an actual reflection of Santiago Segura's thoughts. Imagine Family Guy, I'm certain that the people behind the jokes that are written are not racist or sexist. And the problem with this film, and like most late Family Guy episodes, just because it's satire doesn't give it an excuse to be poorly written. I think a lot of people use the 'satire' as a shield to justify just about anything in comedy. Even terrible writing. Just because something is supposed to be satirical does not instantly make it smarter or better than it would've been otherwise. Like I said, a lot of people hold on to that word as if it means something when comedy is just poorly thought out. And that's what the comedy is in this film, it's just not a very good, or funny, movie. I will say that I did like some of Torrente's more creative insults, but this is pretty much the same exact thing as the previous films in the series, except slightly more 'toned' down. He's still as racist, sexist and corrupt as ever before, but the comedy just has a little less 'bite' than before. Law of diminishing returns, after all. Repeat the same joke over and over and you'll get less laughs each time out. And that applies to this film. It's just not that funny, past a couple of insults. Everything else, and I believe I mentioned this in one of my previous Torrente reviews, a series of crass skits thrown together with no rhyme or reason. I do think that the Torrente character is meant to be a satirical parody but, again, that's no excuse for this being a shitty comedy. The joke was wearing thin at the end of the first Torrente film I watch, which was the first sequel actually, so it's even more surprising that Santiago Segura has managed to squeeze out two additional movies on top of this one. I expect no improvement, Torrente is gonna be the same character saying the same jokes over and over again. He's in a perpetual state of arrested development. And I'm sure that's how Torrente's fans like him, irreverent and crude, but that doesn't mean that he's any good. I appreciate a good raunchy comedy if done right. This is not one of them. Pretty bad movie. I'll probably watch the fourth film because, at this point, why the fuck not? It most likely won't be any good, but I'll give it a shot. Not worth watching in the least.
Jesse Ortega
Super Reviewer
Torrente: The Protector Quotes
There are no approved quotes yet for this movie.