Tortilla Flat
(1942)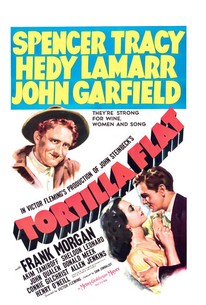 AUDIENCE SCORE
Critic Consensus: No consensus yet.
Movie Info
This adaptation of John Steinbeck's novel traces the lives of two fishermen who are struggling on the coast of California. Pilon tries his best to avoid responsibility, preferring to launch schemes in the intent of striking it rich. Danny, meanwhile, does hit a streak of good luck.
Critic Reviews for Tortilla Flat
All Critics (1) | Fresh (0) | Rotten (1)
There's something devilish about watching the gringo actors go Mexican and find themselves out in limbo in something as unreal and dumb as this harmless spoof.
Audience Reviews for Tortilla Flat
The book is filled with so many uneven episodes in the lives of this group of paisanos. The movie picks a handful of these episodes and invents some new ones in an effort to create a sensible story. It is not an easy thing to do. The adapter doesn't choose all of what I would consider to be the better episodes from the book, but there are just too many characters to get to know in less than a two hour time span. Danny (Garfield) is the central character in the book who ties all the friends together, but many of the episodes have very little to do with him and I didn't find him all that charming of a character. Steinbeck seems to have a little confusion about who his main protagonist is. Pilon (Tracy) is the brain and voice of the group of friends, so he is present in most every adventure and the one that I enjoyed reading about most. Spencer Tracy is one of my favorite actors, but he does a terrible job imitating a Mexican-American accent compared to the Portuguese one he used in Captains Courageous. Sweets Ramirez (Lamarr) is given a role of much more bulk in the movie compared to the book. This is mainly to create a stronger romantic plot with Danny. I am glad Hedy Lamarr got this starring female role because there are no female characters with much of a voice in the book, however Danny is still fairly forgettable. Frank Morgan as "The Pirate" was an interesting choice. He wasn't exactly what I expected the character to be, but he was still simple and touching especially when interacting with his dogs. There is not a Latino in the cast of main characters, so everyone is doing bad racial mimicry. Steinbeck has an ear for the way people speak and he did live in areas like where this story is set, but it did not translate well to the screen in the Hollywood environment of the time.
Byron Brubaker
Super Reviewer
Fine performers founder in completely miscast drama.
Tortilla Flat Quotes
| | |
| --- | --- |
| Pilon: | "Lover and wine are similar in that too much of one can leave a man sick" |
| Pilon: | Love and wine are similar in that too much of one can leave a man sick. |