Towelhead
(2007)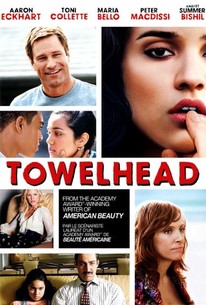 TOMATOMETER
AUDIENCE SCORE
Critic Consensus: This story of politics, race and, sexual awakening has moments that pack a punch, but overall, Towelhead never quite achieves the nuance of helmer Alan Ball's television work.
Movie Info
Six Feet Under creator and American Beauty screenwriter Alan Ball makes his feature directorial debut with this screen adaptation of author Alicia Erian's controversial novel Towelhead. Jasira (Summer Bishil) is a 13-year-old Arab-American who's contending with the pains of adolescence when her life takes a sudden and unexpected turn. Sent to live with her stern Lebanese father, Rifat (Peter Macdissi), by her self-absorbed mother (Maria Bello), Jasira finds herself struggling to adjust to life in the suburbs while contending with racism and hypocrisy at every turn. Rifat lives in a modest, suburban Houston home next to racist reservist Mr. Vuoso (Aaron Eckhart) and meddling expectant mother Melina (Toni Collette). Adjusting to life in the suburbs isn't easy for young Jasira, though she tries her hardest to adapt to the unfamiliar environment by striking up casual conversations with her curious new neighbors. In the process, Jasira finds herself increasingly attracted to hormone-driven African-American teen Thomas (Eugene Jones). When Rifat finds out that his daughter's new boyfriend is black, he vehemently condemns the relationship. As America launches its initial invasion of Iraq, Jasira finds herself caught up in a potentially explosive situation that is only compounded by her raging hormones and the snooping of her pregnant, busybody neighbor. ~ Jason Buchanan, Rovi
People Who Like this movie also like
News & Interviews for Towelhead
Critic Reviews for Towelhead
Audience Reviews for Towelhead
A young Arab-American girl lives with her insensitive, racist father and grows to sexual awakening after she's raped by a neighbor. This is the feel-good movie of the year if your idea of a great date movie is Bastard out of Carolina. At every plot turn, director and co-writer Alan Ball's film gets more and more disturbing. It packs in themes of sexual abuse and growing sexual maturity with themes of racism and parenthood. And while Toni Collette's character is supposed to be the liberal moral center of the film, most of the characters are so remarkably distasteful that no matter how hard Ball tries to make us see them as real, flawed people, the film comes off as disturbing for disturbing's sake. I suppose the film tries to present the American Dream as a flawed notion tainted by racism, leaving children as its most vulnerable victims, but instead the film merely amounts to a collection of atrocities. The performances are all good. I haven't seen Aaron Eckhart play not-Aaron-Eckhart until this film, and Summer Bishil gives a wise-beyond-her-years portrayal of Jasira, the victim of the film's worst events. Overall, this is a great film if you want to hate everything for a while.
Jim Hunter
Super Reviewer
½
Prolific screenwriter Alan Ball ("American Beauty," "Six Feet Under," "True Blood") has only tried his hand at direction a few times. "Towelhead," which he also wrote, was his first and (so far) last attempt at directing a feature film. Based on the mediocre results, I don't think he'll be directing any more films. He should stick to writing, especially television writing. That's where his talent lies. "Towelhead" has some very interesting subject matter and has many very courageous aspects. It tells the story of a 13-year-old suburban girl of mixed Lebanese and white American heritage coming to terms with many things, including the break-up of her parents, her suddenly surging sexual desire, and anti-Middle Eastern prejudice. Initially, I thought the film was going to be a send-up of the way semi-educated Americans perceive Middle Easterners. There's certainly plenty of that. But the center of the film is the girl's emerging sexuality. A major sequence depicts her learning to give herself orgasms, for example. We also see her exploring pornography and learning to flirt with both boys and men. What's perhaps most interesting is how the adults around her react. This is very interesting subject matter. The original novel was written by an American woman of Middle Eastern descent (Alicia Erian), and it was intended not for titillation but for serious artistic exploration of the sexual side of life and the difficulties girls face in exploring their sexualities. Alan Ball, in adapting the screenplay, takes the subject matter seriously as well. The problem is that the direction is horrendously flat and bland. Its style is also relentlessly television-like. It is obvious that Ball spent the 10 years leading up to the project completely immersed in television. After about an hour, I could barely watch it any longer. The editing is also so bad that the film ends up repeating itself over and over. The screenwriting also often seems unsure of what it wants to say or even explore. It's often also just flat-out boring. Bottom line: great subject matter, weak film adaptation.
William Dunmyer
Super Reviewer
Very dark for a comedy,(at least I assume it was intended to be a comedy). Kind of in some ways like a Todd Solondz film. Good but I think tied up a little too easily at the ends and the actual ending I didn't like too much and couldn't see why they chose to end the film there.(Maybe it was meant to be hopeful, for me, I just found it off putting - not my favourite scene in any movie. LOL). The young girl who plays Jasira is very good as were the rest of the cast.
Nicki Marie
Super Reviewer
Towelhead Quotes
There are no approved quotes yet for this movie.