Tower of London
(1962)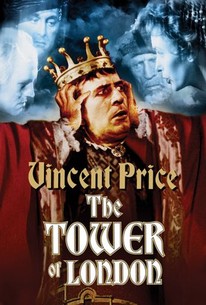 AUDIENCE SCORE
Critic Consensus: No consensus yet.
Movie Info
Roger Corman's stripped-down remake of Universal's 1939 period classic elevates that film's supporting player Vincent Price to the starring role, essayed in the original by Basil Rathbone. Price chews scenery as hunchbacked mad monarch Richard III, who ascends the throne through murder (including the Duke of Clarence's wine-vat drowning), torture (lovely Sandra Knight gains a few inches on the rack), and elaborate deception. Bloody events and plot twists notwithstanding, this low-budget outing is painfully threadbare for a period piece, even in comparison to Corman's Edgar Allan Poe films for AIP from the same period. The film's saving grace is found in Price's manic performance, which ranks among the horror legend's most flamboyant.
Critic Reviews for Tower of London
All Critics (1) | Fresh (1) | Rotten (0)
The story is hampered by too many repetitive scenes of Richard being confronted by the ghosts of those he killed, but Price is compelling as the mad ruler (even if some of his bellows sound like Walter Matthau doing Neil Simon).

Audience Reviews for Tower of London
½
Starts off a little slow, but quickly starts piling on the deaths and ghosts. Combine that with Price chewing scenery and you have an entertaining film. 3 1/2 stars
Ross Malo
½
A king makes his own destiny. Richard the III has a strong ambition to become the king of England. In the process of his climb, he kills his brother and several others that threaten his ambition. He is not the rightful owner of the thrown and there will be people that try to bring him down. As he decides how to handle those who would have his crown, ghosts from his evil deeds haunt him. "My brother's blood..." "Blood washes away." Roger Corman, director of House of Usher, The Little Shop of Horrors, The Raven, The Terror, The Tomb of Ligeia, The Haunted Place, and Pit and the Pendulum, delivers Tower of London. The storyline for this picture is very interesting and the special effects created for the ghosts were perfect and entertaining. The acting is very good and I adored Price's performance. The cast also includes Michael Pate, Richard Hale, Robert Brown, and Joan Freeman. "What type of man are you that can live with such evil on your conscious." I DVR'd this picture this Halloween off Turner Classic Movies (TCM). I always DVR as many Vincent Price and Peter Cushing pictures as possible and I was surprised that I had never seen this. I am surprised the reviews for this picture are so low. This is one of the better Price films I have seen in some time. I thought his acting was excellent and the movie was definitely worthwhile. I do recommend seeing this picture. "They wanted me to join them." Grade: B+/A-
Kevin Robbins
This is a remake of the 30s movie of the same name, which also has Vincent Price, but in a different role, ironically he plays the guy who killed his character in the original. I like both movies, but Price is the main character in this one. The story is good, and the actors are great. I really like this movie.
Tower of London Quotes
There are no approved quotes yet for this movie.
Discussion Forum
Discuss Tower of London on our Movie forum!