Toy Story 3
(2010)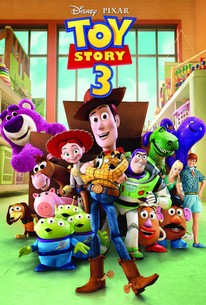 Movie Info
"Toy Story 3" welcomes Woody, Buzz and the whole gang back to the big screen as Andy prepares to depart for college and his loyal toys find themselves in... daycare! These untamed tots with their sticky little fingers do not play nice, so it's all for one and one for all as plans for the great escape get underway. A few new faces-some plastic, some plush-join the adventure, including iconic swinging bachelor and Barbie's counterpart Ken, a thespian hedgehog named Mr. Pricklepants and a pink, strawberry-scented teddy bear called Lots-o'-Huggin' Bear.
People Who Like this movie also like
News & Interviews for Toy Story 3
Critic Reviews for Toy Story 3
Audience Reviews for Toy Story 3
A true masterpiece that exceeds the level of quality of the previous films and reflects Pixar's own growth in storytelling, being not just an amazing entertainment as the other two but above all a mature and emotionally devastating movie that moved me to tears with its unforgettable final act.
Carlos Magalhães
Super Reviewer
And so Pixar just goes and does it again, as if it's the easiest thing to do: They're taking characters that haven't been used in 10 years and throw them into this new adventure as if no time passed. The film blends perfectly into its two predecessors. Of course, the animation has taken huge steps in the meantime and is absolutely flawless and stunningly beautiful. Starting with a bang of a beautifully shot action sequence the film reminds reminds us of all the different characters from the gang of toys. And that's what they are, characters. Although there are too many of them to give them all a lot of screen time it just takes seconds for us to feel for them. When Woody and his friends hold each other's hands later while facing their possible demise, we forget that we're looking at animated toys, we worry about them as if they were real. That's certainly the biggest asset of the film, taking its characters seriously while having fun with them. The story is a tad more serious than before, delivering one of the greatest prison breaks of recent movie history, there's great voice acting and the story develops quite a lot of speed in the last third with more spectacular and colorful sceneries than the two first films. Just try not to be deeply touched by the last couple of minutes. The result is en par with its fantastic predecessors: funny, sweet, touching, deeply entertaining. Another triumph for Pixar.
It follows a very familiar Pixar formula, but the studio's heart and soul is poured into every moment of this beautiful and hilarious movie, and the ending accomplishes incredible emotional feats.
Sam Barnett
Super Reviewer
Toy Story 3 Quotes
| | |
| --- | --- |
| Mr. Potato Head: | Where's my nose? |
| Mrs. Potato Head: | Here it is. |
| Mr. Potato Head: | Here's your arm. |
| Mrs. Potato Head: | Gimme that. |
| Mr. Potato Head: | Honey? |
| Mrs. Potato Head: | Yeah? |
| Mr. Potato Head: | The mustache?? |
| | |
| --- | --- |
| Buzz Lightyear: | Quiet, musical hog! |
| | |
| --- | --- |
| Jessie the Cowgirl: | Buzz! We're your friends! |
| Buzz Lightyear: | Spare me your lies, temptress! Your emperor's defeated, and I'm immune to your bewitching good looks. |