Toys in the Attic
(1963)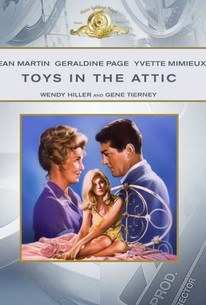 Movie Info
When a man returns to his New Orleans home with his new and naive bride, his two old-maid sisters meddle in his affairs and attempt to manipulate the young wife. This drama is adapted from the acclaimed 1960 Broadway play by Lillian Hellman.
Critic Reviews for Toys in the Attic
Audience Reviews for Toys in the Attic
Heavy dramatics and a suffocating atmosphere make this a challenge at times. What it has to balance out all the weighty goings on is acting of the highest order. Martin, Yvette Mimieux and Gene Tierney all contribute excellent work but the real fireworks is between Geraldine Page and Wendy Hiller as Dean's sisters. While Gerry Page has the showier role it's Wendy Hiller who gives the film's best performance.
Dean Martin proves he can act in this serious drama about a brother and his two, older, unwed sisters. One of those thought provoking films of terrible, destructive jealousy, the film starts so light and carefree and spirals out of control after the "gift giving" scene. Julian has come home with $150,000 and shows it like a trophy in an envelope. [img]http://t2.gstatic.com/images?q=tbn:ANd9GcTX3KbLhdWEFKs4g73Fq0AQlI1WihorDQnDbRWA8PHIQBPTgX6PKQ[/img] Set in the South, Julian Berniers (Dean Martin) [img]http://t2.gstatic.com/images?q=tbn:ANd9GcS4xwttRBydQOGuehjnUmjK7b6oBZJWMytArJzyxwvS8wXC5hlJ[/img] returns from Illinois with his young blonde bride Lily Prine [img]http://t2.gstatic.com/images?q=tbn:ANd9GcRb3BUjZPugYMtHzvOBhb8IZhba2XBpcoTjjUNR850b9JD49w2Mcg[/img] to the family in New Orleans. His spinster sisters Carrie and Anna welcome the couple with true joy, but Julian arrives with expensive gifts, a trip abroad for them, and pays the mortgage for the house they live in. Thought to be broke, the sisters give him their savings, but instead he showers THEM with wealth. They feel not needed anymore. [img]http://t1.gstatic.com/images?q=tbn:ANd9GcReDmg_9OEPf02PSF3FqlOMR4kcrjECIT00Z55uo9Pb99OIq7nseg[/img] Early on, the sisters hope Julian will help with their expenses, and he tells them that while his profitable factory went out of business, he did manage to save money. It turns out that Julian pulled off a real estate scam and took off with the money. This is a formula for disastor. One sister doubts the money is earned and the other could care. The wife is afraid she has lost her man (Martin) to another in exchange for vast wealth. Martin is bubbly, positive and throws money all around town. Gifts abound for everybody. The best gift is this romantic tragedy, like Hitchcockian film to us. ;) [img]http://t1.gstatic.com/images?q=tbn:ANd9GcQ5BzAkMUW7IWH49HSKI6sC3ggtfsiaBSN8Fwi7jiCWiEYlZgBG[/img] NOTES: 1 One sister half way through the film tells Carrie: You wanted to sleep with your brother! This provides many to conclude incest was a motivation for Carrie's jealousy of Lily, Dean Martin's newly wed wife. 2 The title: Toys in the Attic, usually means someone is crazy. Well, in this movie, the sister is just crazy over her brother, Dean Martin. But early in the film the scenes of the two sisters preparing for their brother's visit is in their attic, full of memories. [img]http://t1.gstatic.com/images?q=tbn:ANd9GcSanCjXXCBsBIufhjGb_kNV3XdspZ9SrkMuLX3uR-9-83j3Wb3Q[/img] REVIEWS: 1 Great Picture! Dean gives a great performance, along with the other actors. Also I think that the story was told very well and that the way the movie was put together was superb. This is definitely a favorite of mine. This movie gets a 10 from me! 2 80% A good Melodrama with Dean Martin, Geraldine Page and Wendy Hiller..... 3 Dean Martin has always been over looked as an actor and really proves his worth in this role. Director George Roy Hill keeps things moving and all and everyone else keep plenty of grease and batter on this fine batch of southern fried chicken. Treat yourself to a really fine movie, it is worth it all just for a look at the talented Madame Tierney. 4 More southern fried family drama, with some powerhouse acting.... [img]http://t3.gstatic.com/images?q=tbn:ANd9GcRNOkQ5YEW5C3gMRXxqVUH-QUfC7_uYQWBdpMO0I-t0548RVQW_[/img] Cast Dean Martin as Julian Berniers Geraldine Page as Carrie Berniers (Her jealousy of Lily pushes her to discover the shady land deal for herself and she does everything she can to wreck their marriage.) [img]http://t3.gstatic.com/images?q=tbn:ANd9GcQDCWrMA2-nOGaJxNn0ZxFC5ZpEROGMTEUsmH5WzcEVeSjy0BiFhA[/img] Page won and oscar for Trip To Bountiful, was co-star of Glen Ford in Dear Heart. Yvette Mimieux as Lily Prine Berniers (wife of Martin) [img]http://t2.gstatic.com/images?q=tbn:ANd9GcQJhAdduxRAGegJPbmGaaIBbSmD3JxuKQAy-v2SXc42UalX3H14LA[/img] Gene Tierney as Albertine Prine (mother of Lily) Wendy Hiller as Anna Berniers Nan Martin as Charlotte Warkins Larry Gates as Cyrus Warkins Frank Silvera as Henry Simpson Directed by George Roy Hill Produced by Walter Mirisch Based on award winning stage play "Toys in the Attic" by Lillian Hellman [img]http://t3.gstatic.com/images?q=tbn:ANd9GcTJokhh-OfyPIfZVSbNucY-KQk2aHNd6UbYs3hnxZV-7k1IyH9g[/img]
monsieur rick
Toys in the Attic Quotes
There are no approved quotes yet for this movie.
Discussion Forum
Discuss Toys in the Attic on our Movie forum!