Trainspotting
(1996)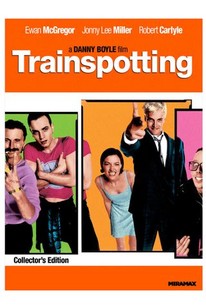 TOMATOMETER
AUDIENCE SCORE
Critic Consensus: A brutal, often times funny, other times terrifying portrayal of drug addiction in Edinburgh. Not for the faint of heart, but well worth viewing as a realistic and entertaining reminder of the horrors of drug use.
Movie Info
Mark Renton (Ewan McGregor), a young man with few prospects and fewer ambitions, lives in economically depressed Edinburgh. Like most of his friends, Renton is a heroin addict who loves the drug's blissful nothingness; financing his habit also provides excitement and challenges that his life otherwise lacks. Renton's two best friends are also junkies: Sick Boy (Jonny Lee Miller), a snappy dresser obsessed with James Bond, and Spud (Ewan Bremner), a guileless nerd who suggests Pee Wee Herman's debauched cousin. Renton and his pals also hang out with Begbie (Robert Carlyle), a borderline psychotic who loathes junkies even though he drinks like a fish. After one too many brushes with the law, Renton kicks heroin and moves to London, where he finds a job, a flat, and something close to peace of mind. However, Sick Boy, Begbie, and Spud all arrive at his doorstep on the trail of a big score, leading Renton back into drugs and crime. ~ Mark Deming, Rovi
People Who Like this movie also like
News & Interviews for Trainspotting
Critic Reviews for Trainspotting
Audience Reviews for Trainspotting
It's been over 13 years since the release of the first Trainspotting film, and the cult following that it has gained over the years is absolutely tremendous, at least for hardcore film fanatics. Quote honestly, this is a film that has gotten much better with age in my opinion, due to the fact that you can see how far we've come as a society since these events and how differently the drug scene has altered through the years. Trainspotting is quite the eye-opener of a movie and there will be many people that either just don't get it, or are too disgusted with the themes it chooses to present on-screen. These are just my updated thoughts, because unless you're someone trying to break into the industry, I can't see this film expanding its already existing fanbase anytime soon. When it comes to movies that have the guts to explore very tough things in our everyday lives, I can respect it right off the bat. On top of that, there is something very realistic about low-budget films that do exactly that, because it feels more grounded in reality, instead of overblown on a large scale. Trainspotting is a film about friendship, life, drugs, and the hardships that all three of those come with. That story is still very much relevant today and it's crazy to see how accurately made this film was when looking back at what certain parts of the world were like when this movie was made. If for nothing else, this is a movie that delivers fantastic messages and lessons about life itself. I'm not one to turn away when imagery is too graphic or realistic to look at, but there are quite a few moments showcased throughout the duration of this film that borderline made me queasy. Trainspotting isn't exactly one of the most quality films out there, but it's definitely one of the best films in terms of blatantly showing things that you don't expect in a feature film. I don't have much to complain about here, but I'll say that if you haven't scene this film yet (and are intending to), I strong recommend being ready for anything to be thrown at you. What makes this film so likeable is the cast, hands down. Yes, the cinematography and editing styles are tremendously unique, but the cast pays off each other very well. You truly believe that these guys are friends and enemies all at once. Some have better relations that others and each and every one of them seem to be invested in their respective roles. Trainspotting is an eye-opening film about the world, but it's justas much about friendship and whether or not friends can stay together during dire circumstances. In the end, this review exists to tell people that Trainspotting is still as relevant as it used to be, because you can look back and see how society has both positively and negatively evolved since then. The themes are very serious and the imagery isn't afraid to shock you, but the overall concept of the movie is well worth sitting through these elements. It's a very different film, so you have to view it with an open mind, but it really is a film lovers dream movie. I thoroughly enjoy this movie each time I watch it, and I actually think it improves with age. Trainspotting is a very solid film.
Artistically constructed, and featuring a bravura performance from Ewan McGregor, Trainspotting craftily balances both a dark and charming tone.
Matthew Samuel Mirliani
Super Reviewer
MisterYoda ?
Super Reviewer
Trainspotting Quotes
| | |
| --- | --- |
| Sick Boy: | All I'm trying to do is help you understand that The Name of the Rose is merely a blip on an otherwise uninterrupted downward trajectory. |
| Mark Renton: | What about The Untouchables? |
| Sick Boy: | I don't rate that at all. |
| Mark Renton: | Despite the Academy award? |
| Mark Renton: | Despite the Academy Award? |
| Sick Boy: | That means fuck all. The sympathy vote. |