Trancers III: Deth Lives
(1992)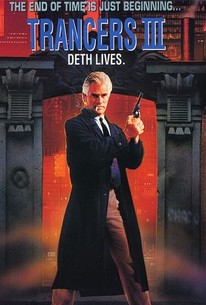 AUDIENCE SCORE
Critic Consensus: No consensus yet.
Trancers III: Deth Lives Videos
Trancers III: Deth Lives Photos
Movie Info
This third entry in the sci-fi Trancers series involves a futuristic L.A. cop/detective who time-travels to battle more Trancers from a 23rd-century totalitarian government that maintains control by injecting victims with trance-inducing drugs, causing them to become virtual puppets.
Rating:
R (adult situations/language, nudity, violence)
Genre:
, , ,
Directed By:
Written By:
In Theaters:
On DVD:
Runtime:
Studio:
Full Moon
Critic Reviews for Trancers III: Deth Lives
There are no critic reviews yet for Trancers III: Deth Lives. Keep checking Rotten Tomatoes for updates!
Audience Reviews for Trancers III: Deth Lives
½
Getting a little better after the dreadful second film yet still highly cheap and nasty with laughable everything. This time 'Deth' does have a rather neat partner in the form of a large android called 'Shark' who actually looks pretty sweet with his fish/fin mask, not brilliant makeup effects but its nice looking and different. The special ops training and fighting camp is really bad in this, some great fake looking fighting and bad stunts work a treat in making this hilarious when its not really suppose to be. Still chasing Trancers all through time and space Thomerson is witty as ever and on top form with his tough guy persona. He still manages to make me smile despite the utter crud going on all around. I dunno why Thomerson keeps doing these but he is the main attraction for sure. The first two films seemed to be semi serious but this third film definitely eases up and clearly everyone is having a good time making it. The whole concept seems to be leaning towards the dark humour of the 'Evil Dead' franchise in my opinion, plenty of wise cracks, visual tomfoolery and more outlandish fantasy based ideas.
Phil Hubbs
Super Reviewer
½
The Trancers saga continues with this solid sequel that has the series take a darker tone without loosing that same tongue-in-cheek humor edge. The mixture worked making this by far the best sequel into the entire franchise, and that's even without original director Charles Band behind the camera. In 1992, Jack Death and Leena's relationship are on the rocks as Deth makes a living as a private investigator who basically just spies on cheating spouses. Deth, while on the way to mend fences with his wife, gets kidnapped by a ridiculous looking robot sent form the future. While back in the year 2325, his superiors make him aware that a newer, stronger breed of Trancers are whipping the humans out so he is stent back the year 2005 when the stronger Trancer program began by psychotic villain Col. Daddy Muthuh (Andrew Robinson, having a heyday by hamming up his performance). So now it's up to Deth, and his sidekick Shark (the ridiculous looking cyborg) to take these stronger breed of Trancers out! Are they too strong for Deth? Oh fuck no! The film sadly doesn't have all the actors from the previous films return but they wrote the plot so we wouldn't need them. Somehow Band still convinced Helen Hunt to come back to make a small reprisal despite her hitting the big time with her television show Mad About You. Even though her role in this sequel is small, it's still great to see her back. I really dug the new dark approach to the subject matter and I was also pleased they still were able to keep some of the tongue-in-cheek humor with Deth, sporting a new crew cut, still wonderfully spouting off some great one-liners. I also really liked the addition of the android sidekick "Shark" despite its appearance looking completely idiotic. I was completely surprised by Trancers III and for a direct-to-video low budget B-movie, this was pretty decent. I highly recommend this to fans of the franchise though some may not like the dark approach. I dug it and to me it felt more like the original film as Trancers II did get a little too unintentionally funny and wacky at some moments. Bonus Rant: Just like Trancers II, the advertising group and filmmakers can't decided if to include a subtitle or not. Trancers II had the subtitle The Return of Jack Deth on all the advertisements and box artwork but not on the film. The same applies to Trancers III as it also as the subtitle Deth Lives on the advertisements but not in the film. It may be a minor grip but COME ON guys, it's not that hard to make the titles match!
Eric Reifschneider
½
In Trancers III: Deth Lives, the honeymoon is over. Jack Deth (returning Tim Thomerson) is now a small-time private eye whose constant need to work has put his marriage to Lena (Helen Hunt, who makes a very brief appearance. Yeah, you can tell the point in the franchise when she started to become a bigger actress) is on the fritz. On the night he hopes to make it up to her and reconcile, a strange android drops in and abducts Deth, taking him back to his former futuristic home, which is now a total war zone thanks to re-emergence of Trancers. His former wife Allison (Megan Ward returning) and leader Harris (Stephen Macht) send Jack back in time to 2005 where a sadistic army colonel (played by the great Andrew Robinson) is injecting soldiers with chemicals and training them to be a super-breed of Trancers for the government. With the help of Lena (now leading a new life with another family) and a Trancers trainee runaway, Deth must track down this group and destroy them all to restore the balance of the future. Aside from new popular (to me anyways) faces like Robinson (Hellraiser, Dirty Harry) and Macht (The Monster Squad), there's also a few recognizable stuntmen, including Thomas Rosales Jr. (part of the furniture in Bruno) and R.A. Mihailoff (Leatherface in Texas Chainsaw Massacre 3 and soon to be seen in the upcoming Hatchet 2). The film also sports early work from the KNB effects guys and new direction from C. Courtney Joyner (Lurking Fear). The mood in this Trancers entry definitely takes a somewhat darker turn, but that's not to say it isn't without its charm and humor here and there. The film is definitely a bit more violent, which I liked, and it was nice of Hunt to at least give a nice cameo before she became too good for the Franchise that break her through to feature films. Yeah, this is a far cry from the original, but it still does a commendable job of keeping up the continuity from each story. Fun movie.
Jason Duron
Discussion Forum
Discuss Trancers III: Deth Lives on our Movie forum!