Trancers 4: Jack of Swords (Trancers 4: Journeys Through the Darkzone)
(1993)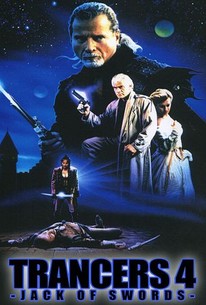 AUDIENCE SCORE
Critic Consensus: No consensus yet.
Trancers 4: Jack of Swords (Trancers 4: Journeys Through the Darkzone) Videos
Trancers 4: Jack of Swords (Trancers 4: Journeys Through the Darkzone) Photos
Movie Info
Trancers 4: Jack of Swords follows the time-traveling policeman Jack Deth into another dimension, where aliens called the Trancers are keeping the natives as food. Deth's mission is to save the population from the Trancers.
Rating:
R (adult situations/language, sex, violence)
Genre:
, ,
Directed By:
Written By:
On DVD:
Runtime:
Studio:
Full Moon
Critic Reviews for Trancers 4: Jack of Swords (Trancers 4: Journeys Through the Darkzone)
There are no critic reviews yet for Trancers 4: Jack of Swords (Trancers 4: Journeys Through the Darkzone). Keep checking Rotten Tomatoes for updates!
Audience Reviews for Trancers 4: Jack of Swords (Trancers 4: Journeys Through the Darkzone)
Number four and back down we go, the roller coaster continues with Jack Deth and his adventures through time. Unfortunately after a better third film its back to a dreadful trashy B-movie without any amusing trashy charm. Thomerson is still firing the wisecracks but the medieval setting for this is really bad looking. This kind of location can either work looking quite authentic or not work and look really obvious, this is the latter. Everyone is running around what looks like some local woods (you expect to see them run into a car park half the time) and a Romanian castle but you can tell the sets a mile off. Lots of really iffy looking fights, weapon usage and a really cheesy baddie at the top of the tree. Plot wise its getting a bit messy, horrendously corny and badly cliched...actually I kinda lost the plot to be honest. Too many characters and little sub plots going on with rather messy direction and editing. still it doesn't matter as in the end you know Deth will win somehow. I like this films title I might add, not really sure how it relates to the events in the film but its kinda cool.
Phil Hubbs
Super Reviewer
The ending to Trancers III got me pumped up for another sequel. Jack Deth and his sidekick android Shark time hopping around singeing Trancers sounded like an awesome way to lay out some more sequels. However Full Moon changes their mind yet again and takes the series in a new direction, a direction that could have been interesting if executed properly. Sadly, mostly thanks to a zero budget, the film fails at its new concept of throwing Jack Deth into an alternate medieval Trancer universe. Deth, still singeing Trancers and other monster scum through time, this time gets a new hot, hard ass female boss. After butting heads Jack then heads back to work but thanks to a hidden monster in his time machine, he gets catapulted to an alternate medieval dimension that, of all things, also has Trancers! So Deth with the help of some human rebels and a rogue Trancer (son of Caliban, leader of the tracer cult), decide to rise up and do what Deth does best, singe some Trancer ass! The trancers here are a little different here (though a good definition of them is never given in the previous films) as they are more vampire like. They suck on their victim's necks, turning them different colors until they just vaporize. It's really cheesy and I wouldn't even call these bastards Trancers as they really seem to have no psychic abilities or turn yellow and zombie-like. They just seem to be extremely strong, aristocratic, asshole vampires. I do like the concept of throwing Deth into a medieval setting but the film is very poorly executed. The worst aspect is the production values which are extremely low even compared to the previous films. The second problem is the plot set up as the plot is broken up into two separate films. Yes this and Trancers 5 were filmed back to back so the film ends on a very abrupt note. This also means that we are also graced with a extremely short running time and a extremely long, boring title sequence to pad the clock. The acting is also beyond terrible especially with bad actors spouting off badly written medieval dialogue with "thee" and "thou". You know what pisses me off the most though? How they did away with the android Shark. Shark was set up in the previous film like he was going to be returning badass character in sequels to come but right away we are told that he was destroyed in a mission (his head is even used as a lamp at Deth's home). Thanks a lot for ruining that concept Full Moon! Tim Thomerson still makes this disappointing sequel worth watching thanks to his tongue-in-cheek one-liners. Fans will definitely find something to like. Stay tuned for Trancers 5... if you actually care to see the tie-up that much.
Eric Reifschneider
Trancers 4: Jack of Swords has Jack Deth (Tim Thomerson still) as a full-fledged time-traveling cop, working to restore the balance of time. His work got in the way of his marriage to Lena, which ended their relationship in the previous film, and now his work has ended the chance for his to rekindle a relationship with his first wife Allison, now with Harris (returning Stephen Macht). Somewhat depressed, Deth isn't able to stay in that mode for too long as an attack by an alien during time traveling causing destruction and throws Deth into another dimension where it's medieval times and the Trancers control all power, as they are able to suck the lifeforce out of humans. Naturally, Deth goes into kickass mode and starts taking them out, with the humans backing him up. This film was made back-t0-back with part 5, which could have just served as one long Trancers movie, but where's the fun in that. Other than Thomerson, and a brief appearance from a young Lochlyn Monro (Freddy vs. Jason), the cast is pretty much comprised of small time Full Moon movie regulars and generic Romanian extras. The film passes on futuristic action in favor of sword and sorcery and a large abundance of humor. The iconic 10 second watch weapon now gives off an adverse effect that comes off as both corny and hilarious at the same time, which after watching that, I can now see Thomerson as a former stand-up comic (which he used to do before films). It's still fun and definitely campy, but in a humorous sense. Don't look for major sci-fi action like the first 3 had anymore.
Jason Duron
Trancers 4: Jack of Swords (Trancers 4: Journeys Through the Darkzone) Quotes
There are no approved quotes yet for this movie.
Discussion Forum
Discuss Trancers 4: Jack of Swords (Trancers 4: Journeys Through the Darkzone) on our Movie forum!