Trancers 5: Sudden Deth
(1995)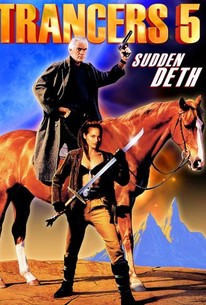 AUDIENCE SCORE
Critic Consensus: No consensus yet.
Trancers 5: Sudden Deth Videos
Trancers 5: Sudden Deth Photos
Movie Info
When the nefarious Lord Caliban and his wicked henchman start acting up again, its up to future cop Jack Deth and his intrepid Tunnel Rats to try to stop him.
Critic Reviews for Trancers 5: Sudden Deth
There are no critic reviews yet for Trancers 5: Sudden Deth. Keep checking Rotten Tomatoes for updates!
Audience Reviews for Trancers 5: Sudden Deth
Ah here we have an old Charles Band trick. This film was made back to back with the previous film and then cut in two. Problem is this half isn't too long so they have padded out the first six/seven minutes with back story from the last film! weak. So its the same again with the same people and the same baddie leader who conveniently comes back from the dead to be the baddie leader in this film again!. So if you read my review of number four you will get an idea for number five, identical stuff at a run time of 1hour 14min!! I do like the films poster art for this one though, all these films have some great cheesy 80's style poster art. The films title isn't half bad either 'Sudden Deth', nice play on words there. This film also marked the last time Thomerson stars as Deth in this franchise. I guess he finally got bored or they just couldn't afford to pay him anymore.
Phil Hubbs
Super Reviewer
½
Trancers 5 is the left over shit form Trancers 4 and it is pretty much pointless. I really hate these sequels that are filmed back to back as they usually take one story that could really stand as one film and they stretch it out, trying to make two fucking movies and add a lot of pointless padding in the process. Trancers 5 is no fucking different. Still trapped in a medieval dimension, Jack Death and his band of rogue humans must once again defeat Caliban in order to find a medallion to send Deth back to his own dimension. That's it. This whole film could have been cut down to 20 minutes, tacked on the end of Trancers 4 and we would still have a film that ran a regular hour an half length. This is just a bunch of bullshit. Deth having to hunt down a precious stone in order to get back to his own time has to be the most quickie, shit story concepts they could have possibly come up with. Thanks to Trancers 5 being filmed back-to-back with Trancers 4 we are still graced with the same shitty acting, the same shitty dialogue, and the same poor production values, just with a more shitty script. The most disappointing part of the film is when Jack Deth and a rogue Trancer enter a "castle of horrors" in order to claim the medallion and the "horrors" just end up being some kind of orgy party. What?! What a disappointing final film for Tim Thomerson in the series. The writers should have combined this and Trancers 4 into a tighter, more comprehensible script and it would have worked good as a sequel. No instead Charles Band gets greedy and decides to make one film into two to get more money and in turn stretches out the thin script too far as well as the money resources. See it if only you are a diehard Trancer fan and my advice is to stop here. Yes there is a Trancers 6 but unless you're a masochist... stay away!
Eric Reifschneider
Trancers 5: Sudden Deth is a direct continuation of the story from part 4 (which were shot back-to-back) keeping with the exact same tone and feel, which is vastly different from the first 3 films. Now that the Trancer empire has fallen, the humans attempt to figure out how to send Jack back to his home. Along with the dead Trancer king's son Prospero (who switched sides in part 4), Deth embarks on a journey to the Castle of Unrelenting Terror to fetch a jewel that is capable of sending him home. Aside from dealing with the unrelenting terrors (which are quite hilarious) the castle has to offer, they must also contend with the remaining Trancers whose king (returning Clabe Hartley) is resurrected and looking to get back at Deth. This follows the same formula as the previous one. All sci-fi action has now been replaced with mostly sword and sorcery. The comedy is kicked up much higher in these ones, especially in part 5. The film does sport a nice conclusion that I wish was the final end of the Trancers franchise, but alas, there is a 6th one, which has no Jack Deth in it save for archive footage. Anyone interested in seeing Tim Thomerson as Jack Deth again should check out his small, but cool cameo in Evil Bong. Overall, part 5 is a nice end piece to part 4, but still very different and a far cry from the first three films. Not bad though.
Jason Duron
Trancers 5: Sudden Deth Quotes
There are no approved quotes yet for this movie.
Discussion Forum
Discuss Trancers 5: Sudden Deth on our Movie forum!