Trancers 6
(2004)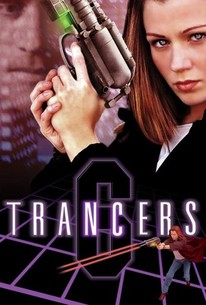 AUDIENCE SCORE
Critic Consensus: No consensus yet.
Movie Info
Jack Deth is back, and he's got a whole new look in this installment of the long-running Trancers saga. Traveling back in time to take over the body of his daughter Josephine, Deth must face off against a powerful new breed of Trancers if he has any hope of saving the future from a horrific fate and rescuing Josephine from a horde of fearsome, zombie-like killers. No one said that saving the world is an easy task, but if anyone has what it takes to finish the job it's Jack Deth.
Critic Reviews for Trancers 6
There are no critic reviews yet for Trancers 6. Keep checking Rotten Tomatoes for updates!
Audience Reviews for Trancers 6
With the loss of Thomerson this franchise dies and this final film shows it. A cast of nobodies in a D-Movie (if not lower) with nasty home video style effects, poorly shot action, inept acting and coupled with the exact same run of the mill plot. They even have the cheek to crowbar in footage of Thomerson as 'Deth' at the start making us believe hes in the film, albeit for about three min. Bad move as that idea nearly always comes across phony looking such as the many martial arts films with Bruce Lee footage awkwardly stuck in. Gone are all the cool witty wise cracks from Deth, that classic tough guy presence which always gave these films a tiny edge. This time Deth has apparently somehow taken over his own daughters body to fight the bad guys. Its a reasonable idea but we all know its purely because there is no Thomerson to play Deth. We are meant to believe that Deth is inside this feisty young female, the same mannerisms, speech, attitude etc...it doesn't really work lets be honest, nice try though.
Phil Hubbs
Super Reviewer
This is by far...the WORST movie that I have EVER SEEN! Mind you, I'm also a fan of MST3K, so I've seen my share of bad movies. This is an insult to the "Trancers" series of films.
Michael Page
By the late 90's and early 2000's, Full Moon turned into a actual sewer of their former selves by making just horrific films that were a mere shadow of their earlier 90's output. First came the monstrosity known as Subspecies 4, then the stock footage filled Puppet Master: The Legacy. What other franchise did they have left to defecate on? Trancers of course! And what's worse is the concept of this sequel actually could have worked if it was actually executed with heart instead of the purpose of milking the cow. Trancers 6 marks the first (and hopefully) last entry in the series not to feature Tim Thomerson. The beginning of the film utilizes stock footage from the previous Trancers to show that Deth is going to be sent down the line ("Trancer" lingo for back in time) to occupy the body of a female ancestor in order to singe more Trancers. Lots of bad acting and other bad shit ensues. Yes, this time Jack Deth is a women. Again I could actually go along with this concept. Tim Thomerson was getting a little old by this point so having his consciousness transferred to female ancestor could have been interesting and amusing. Sadly the execution of this film is awful. First of all the production values are absolute home video quality. I kid you not I could make a movie that looks more professional than this! The special effects are embarrassing and I've seen better effects in student movies. There is an amusing Trancer death sequence where a Trancer commits suicide by jumping out of a window and the effects are so bad it actually causes unintentional laughter. Actress Zette Sullivan as our new female Jack Deth is also just horrific. Her line deliver is just deadpan and pain educing. Actually the whole film is pain inducing and it is a chore to sit through. When Trancers 6 was made, Full Moon wasn't even known as Full Moon anymore. Charles Band changed the company's name to Shadow Entertainment as he felt their output didn't have the same magic as their earlier productions. You think!?! I think the company name "Shadow Entertainment" is a reference to the company being a shadow of their former selves. A Trancers box set even came out on DVD a number of years ago and it only featured the first five films and part six was conveniently forgotten. Trust me, make believe this monstrosity doesn't exist. Part 5 was bad but this is unforgivable.
Eric Reifschneider
Trancers 6 Quotes
There are no approved quotes yet for this movie.
Discussion Forum
Discuss Trancers 6 on our Movie forum!