Trancers II
(1991)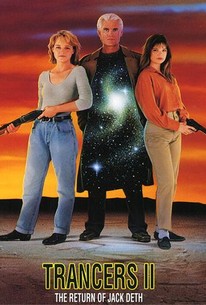 AUDIENCE SCORE
Critic Consensus: No consensus yet.
Movie Info
Time-traveling cop Jack Deth is again called on to defeat the mindless zombies known as the Trancers in this sci-fi action sequel. His mission is further complicated by the presence of his first wife, who has returned from the future to serve as his partner.
Audience Reviews for Trancers II
Charles Band takes the reins again on this energetic and enjoyable follow-up to his original 1984 cult film. Just don't expect the same hard-boiled noir feel as the first or you'll be disappointed. "Trancers II: The Return of Jack Deth" sees our heroic trooper (Tim Thomerson) returning again to save a Los Angeles commodities broker from zombies. Things get complicated when his wife (Megan Ward) from the future is sent back to help him. His wife in the present, Lena (Helen Hunt), is none too happy to see her. Jack is now stuck balancing two women and trying to destroy a sinister plot involving Trancers. It's amazing that Band could bring together most of the cast from the first "Trancers" to reprise their roles. A lot can happen in seven years and Helen Hunt was about to blow up big-time on TV and the big screen. On top of that, he added impressive newcomers Jeffrey Combs, Barbara Crampton, Richard Lynch, and Bond girl Martine Beswick to the mix. "Trancers II: The Return of Jack Deth" is rated R for adult situations, violence and gore, profanity, smoking and drinking, and frightening and intense scenes. If released today, the movie would be PG-13 at the most. There's some blood-splattering when the Trancers are shot, but nothing more since they then disintegrate in a flash of light. Adult situations are made up of some kissing and talk. Sci-Fi actioner "Trancers II: The Return of Jack Deth" makes the most of a low budget through its setting in the past and minimal need for special effects. The look of the title beasties is accomplished through practical make-up and the only need for VFX comes when the monsters evaporate in a haze of laser lighting. Writers Jackson Barr and Charles Band build an engaging story through the use of a bizarre love triangle, humor, drama, and adventure. Although this sequel doesn't hold quite the same charm as the original, it stands on its own and successfully continues the saga of Jack Deth. www.ersink.com
Eric Shirey
Holy crapola Batman this is....errr crapola! After the quite dreary first film we somehow got this quite dreadful sequel that pretty much scrapes the bottom of the barrel alright. Thomerson is back as 'Deth' again for some reason, obviously needing work and Helen Hunt is also back for a cameo as she's realised to get out. The plot is totally muddled and all over the show, there is quite a nice sci-fi plot deep down in there somewhere (touch of 'Terminator' time jumping in the mix) but its being totally buried under a rotting B-movie. Laughable effects, terrible acting, really bad sets and props plus virtually no costumes what so ever, looks like Thomerson wore his own clothes. I might add the exploding ham scene was so bad it was brilliant. Only Thomerson gives any reason to watch a tall, he can't save the film but he does inject a tiny amount of fun with his dry harsh tough guy performance. 'Don't worry ladies, they're biodegradable'
Phil Hubbs
Super Reviewer
½
Not content with Deth's creepily mismatched pursuit of Lena from the first movie this time we see the old man lock lips with an even younger co-star at every opportunity while not doing the same to his child bride. The plot has barely moved forward and many of the ideas and scenes are like alternate versions of the first movies. To its credit the cast return and the characters so sync up but with no new ideas the steam runs out very quickly.
Mark Nash
Trancers II Quotes
There are no approved quotes yet for this movie.
Discussion Forum
Discuss Trancers II on our Movie forum!