Transformers
(2007)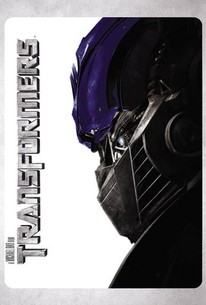 TOMATOMETER
AUDIENCE SCORE
Critic Consensus: While believable characters are hard to come by in Transformers, the effects are staggering and the action is exhilarating.
Movie Info
The interstellar battle between the Autobots and Decepticons rains destruction down on planet Earth as director Michael Bay adapts Hasbro and Takara's popular Transformers franchise into a big-budget, live-action summer tentpole extravaganza in this ambitious sci-fi action feature starring Shia LaBeouf, Tyrese Gibson, Bernie Mac, John Turturro, Jon Voight, and, of course, Optimus Prime and Megatron. Long ago, on the planet of Cybertron, a massive, powerful alien race divided into two factions, the noble Autobots, and the devious Decepticons. They fought for the sole access to a talisman known as the Allspark, a cube with the capacity to grant infinite power, and eventually the Autobots smuggled it off the planet's surface, hiding it in an unknown location on Earth. Now, hundreds of years later, the Deceptacons have come looking for it, and if the Autobots don't find it first, the Earth will be enslaved or destroyed by the evil aliens' use of its massive power. The Autobots don't know where the cube was hidden, but the information may be stored in the most unlikely of sources, as a gangly young Earthling named Sam Witwicky (LaBeouf) who's just picked up his first car, has a strange connection to the Allspark's history, making him the unlikely ally of these enormous creatures, as they fight for humankind's survival and the chance to return home. ~ Jason Buchanan, Rovi
People Who Like this movie also like
News & Interviews for Transformers
Critic Reviews for Transformers
Audience Reviews for Transformers
Oh dear oh dear this must be the perfect example of a modern day film and how bad they can be ruined with the dreaded CGI monster. Where to begin! first off using Bay as director was probably the worst decision made when this film was being created, the man can make good action flicks yes but this sci-fi cartoon creation of epic proportions was not meant to be like this. The film is a mess from start to finish with loud noises and visuals that make no sense to the naked eye, yes it all looks very pretty shiny and flashy but you have no idea where the Transformers begin and where they end. I wasn't expecting an amazing plot nor was I expecting an adult based film. Even though the original cartoon was actually quite dark in places and we all knew it would be hard to translate the robots to the big screen, but at the end of the day as an old fan of the original cartoon and toy line I hated how they made the Transformers look in this film. Only Prime and Bumblebee actually looked visually pleasing as all the other robots were practically indecipherable, a huge maze of shiny moving parts which I couldn't tell if even a head was present! Yes the transformation sequences looked kinda neat but again I had no idea what was moving and where! a complete U-turn from the original cartoon where you could actually see how the robots transformed. I just hate how only Prime looks like the original concepts, I understand they updated the robots but the fact hardly any of them resembled their original designs killed me. For some reason all the Decepticons were very pointy and had spikes...why? also I noticed every vehicle was a US vehicle, a good example of how Bay and Hollywood totally 'transformed' (pun totally intended) this cool franchise into what they wanted. Bumblebee an ugly looking Camaro!? and what the hell did they do to Megatron and Frenzy!. So apart from the mass of in your face CGI what else is there? what is left if you take away the effects? nothing, the film has nothing else to offer a tall. The acting is bad, B-movie bad, we're talking 'Godzilla' remake bad. John Turturro gave me some smiles but apart from that this is 'Independence Day' acting right here. Plenty of sappy jive talkin' and Fox looking like she's made out of plastic with her bright white teeth and ridiculous amounts of orange body tan. Kids will enjoy this film I'm sure as they have probably not seen the original material, its loud, got lots of plosions and slow motion fighting. I myself cringe at how gaudy and terrible this trash is, the whole human side of the film is totally pointless! the real live actors are completely defunct and could literately be sidelined. Whilst the big robots are all fighting away in an orgy of shiny CGI nuts n bolts we get little snippets of the actors running around driving stuff and trying to look busy or like they're actually of any use. Then out of the blue one soldier manages to shoot and kill a Decepticon easy as pie! (had to do it from jumping off a moving motorbike for some reason). It all leads me to think they should of made a fully CGI animated film like the old 86 movie. Best thing about the film? they listened to the old school fans and got Cullen back to voice Prime. Unfortunately when Prime says 'sorry my bad' I had to put my face in my hands, yep they got Prime talkin' like a hoodie. No...quite simply no, blow me back to the 80's please!
Phil Hubbs
Super Reviewer
Transformers benefits from a great cast, lovable machines, and a story, although preposterous, that is very entertaining. This truly is a blockbuster that you are into it, you can easily be on the edge of your seat. Never in my life would I have thought I would love watching robots beat the crap out of each other. This is definitely one of the best efforts in bringing an old television cartoon to the big screen, and it does so in great style. Shia LaBeouf leads this movie to stardom, with an exceptional performance, even though his character is a tad annoying at times. Sure there is dumb humor and almost too much action, but that is Michael Bay for you. All in all, it's one of Bay's best!
½
I'd give this 1 star if I wasn't a sucker for well choreographed action, enticing visuals and seemingly real robots shooting and slicing each other up. Shia Lebouf was already awful, giving him a script with verbal diarrhea didn't help. Megan Fox's character never felt convincing and I was pretty sure I'd shoot myself if I had to put up with any more pop-comedy and it's pathetic reach for the "young and hip generation" The story was embarrassingly senseless, with sprawling progressions that seemed about as coherent as a child's imagination. The climatic end is nothing more but a hollow cliche. All in all, it's a shallow endeavor that's only worth watching for the visuals. Some might argue that's enough but I don't know.
Drake Tsui
Super Reviewer
Transformers Quotes
| | |
| --- | --- |
| Miles: | Dude, are you sure we're invited to this party? |
| Sam Witwicky: | Of course miles, it's a lake, public property! |
| | |
| --- | --- |
| Miles: | Dude, are you sure we're invited to this party? |
| Sam Witwicky: | Of course miles, it's a lake, public property! |
| | |
| --- | --- |
| Ron Witwicky: | You really think I would buy you a Porsche for your first car?! |
| Ron Witwicky: | You really think I would buy you a Porsche for your first car? |
| | |
| --- | --- |
| Jazz: | (Transforming and jumping on Brawl) Come on, Decepticon punk! |
| Jazz: | Come on, Decepticon punk! |
Discussion Forum
Discuss Transformers on our Movie forum!