Transylmania
(2009)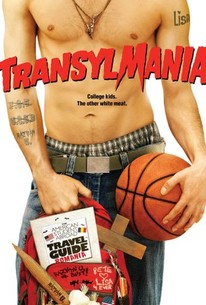 Movie Info
A group of college students embarks on a wild, sexy and outrageous semester abroad at Razvan University. Located deep in the heart of the "cursed land" of Transylvania in a centuries-old castle, Razvan isn't your typical institution of higher learning. The black leather-clad professors, three-foot-tall dean, instruction in crucifix-wielding, and topless vampiresses lurking in dark corners are just the start. It seems Castle Razvan was the property of the feared Vampire King Radu in the Dark Ages and he's come back to reclaim it.
News & Interviews for Transylmania
Critic Reviews for Transylmania
Audience Reviews for Transylmania
Okay, I know what you're thinking. It's hard to get over how incredibly stupid this movie looks. The thing about this movie is that it's really skillfully made. It's a rather seamlessly crafted farce that totally nails all its laughs. It's just full of tits and vampires in a very schlocky way. The premise of this film is a little bit weak, but I find it kind of funny that it's not the "vampire trying to resurrect his evil loved one" or even the "mad scientist tries to perform head transplant" that I found far-fetched, it was the fact that an idiot manages to convince all his buddies to attend a university in Romania just so he can finally meet his internet sweetheart that I found a little hard to swallow. The elements of the ridiculous in this film are knowingly such, and the writers make them work to thier advantage. In fact, this film's internal logic is really surprisingly strong, and it never breaks any of its rules. I was very impressed and amused by this movie. It's got a really intricate story structure that totally works.
Emily Armstrong
Super Reviewer
CAST: Patrick Cavanaugh, James DeBello, Tony Denman, Paul H. Kim, Jennifer Lyons, Oren Skoog, David Steinberg, Musetta Vander, Irena A. Hoffman, Natalie Garza, Nicole Garza DIRECTED BY: David Hillenbrand SUMMARY: Deep in the heart of Transylvania lies Razvan University, where a group of visiting students is about to get the shock of a lifetime. When not being stalked by vampires and succubi, they're evading Razvan's other resident crazies. Seductive teachers, willing students and a hunchback are all included in this year's curriculum. MY THOUGHTS: "I knew it was going to be stupid, I knew there would be bad acting, I even knew it probably would be a waste of a rental(and it was). BUT, I thought at least it would probably be funny. Unfortunately I was right about everything, but the funny part. It was such a boring movie. I laughed maybe once, and that was due to Paul H. Kim. He was the only one who was even a bit funny to me. So I will recommend this one, but I warn you it really isn't worth the rental. Well unless these are your types of movies.."
♥˩ƳИИ ƜѲѲƉƧ♥
Super Reviewer
The film is essentially a spoof on vampire films so if you know your vampire lore, or at least your vampires movies, you will laugh. Pretty much a story of a group of not-too-bright American college kids on a semester abroad at the only college that would accept them: The Razvan University. Soon they realize that if the partying doesn't kill them, the vampires just might! The cast includes a couple of stoner dudes, hot twins, the nymphomaniac airhead cheerleader, the guy who figures the way to impress girls is by claiming to be a vampire hunter and the ultra-sexy black leather clad vampire huntress (she reminds me of Catherine Zeta-Jones in Zorro with her swordplay). Add a dwarf, internet romance, gross-out gags, sex toys and what passes for stoner humor. I'll admit I enjoy a good raunchy college comedy and combining it with a horror film might be a good idea, some day but today isn't the day. I just thought this would have been a vintage comedy I could sink my .......nope, not going there.
Transylmania Quotes
| | |
| --- | --- |
| Lia: | You guy's we need to force him to put me back together guys, seriously |
| Lia: | You guy's we need to force him to put me back together guys, seriously. |
| Wang: | Actually, I've been looking through focus notes and shit, and I'm fairly sorta confident that I can reattach your head to this frankenbody |
| Wang: | Actually, I've been looking through focus notes and shit, and I'm fairly sorta confident that I can reattach your head to this frankenbody. |
| Danni: | You're gonna put her body on that thing? |
| Pete: | Dude, do you think you can do that? |
| Wang: | I was pre-med before I changed to music appreciation, and after all the years of playing video games, these hands have been high tuned.... |
| Wang: | I was pre-med before I changed to music appreciation, and after all the years of playing video games, these hands have been high tuned. |