Traxx
(1987)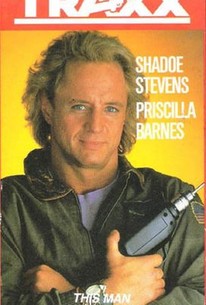 AUDIENCE SCORE
Critic Consensus: No consensus yet.
Movie Info
This comical adventure pokes fun at Rambo as it chronicles the exploits of Traxx, a Texas Highway patrolman who leaves the state police to become a soldier-of-fortune in Hadleyville where he gets into baking funky cookies and working as a sort of town bouncer helping to clean up the burg. While there he and the Mayor, Alexandria Cray have a passionate affair. Real trouble comes to town in the form of the fearsome Uzi-toting Guzik brothers who have come to throw the do-gooder out. To draw him out, the nefarious brothers kidnap the town Little League team.
Critic Reviews for Traxx
There are no critic reviews yet for Traxx. Keep checking Rotten Tomatoes for updates!
Audience Reviews for Traxx
This movie spawns many questions: 1- Who told Shadoe Stevens he could act and/or do comedy? 2- What drug did they give Robert Davi to appear in this hunk of excrement? 3- Was Priscilla Barnes faced with the choice of being in this movie or doing more porn? 4- Who put the money up for this? I hope it was a writeoff. The story has the promise of being funny but fails on many levels. At times, scenes seemed thrown in there at the director's whim. The actors, toward the end of the movie, look like they're just going through the motions and trying to make the movie to a movie size in time. It does boast one of my favorite lines, delivered by Robert Davi: When at first he is unable to "get it up" with his wife, Traxx bursts in and tells him "up, up, up". While Davi raises his hands, his penis grows more and more erect. After Traxx delivers his warning and leaves, his wife berates Davi who then lifts the covers and says, "Speak into the Microphone".
Edward Riley
An interesting sometimes sadistic slapstick action comedy. It actually has some funny moments but then you are almost disturbed at some of the random violence that occurs. An odd movie definitely different. I at first was surprised at how weird of a movie this was it was actually funny too. I liked how Shadoe Stevens' character Traxx just didn't care at all and even wore a shirt of himself. This is definitely of film that does not take itself seriously and spoofs many ideas in the action film drama. Robert Davi has one of the weirdest deaths. He farts in a limo and then lights a match. The limo then explodes.
Matthew Marks
Traxx Quotes
There are no approved quotes yet for this movie.
Discussion Forum
Discuss Traxx on our Movie forum!