Where Angels Fear to Tread
(1994)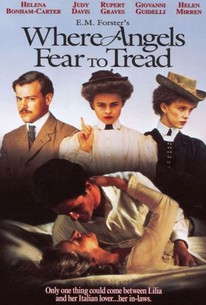 Where Angels Fear to Tread Videos
Where Angels Fear to Tread Photos
Movie Info
A wealthy, upper-class British widow marries a much younger Italian man with disastrous results in this turn-of-the-century costume drama based on the E.M. Forster novel. After marrying into a wealthy family and then losing her husband, middle-aged Lilia Herriton (Helen Mirren) suffers under the disapproving yoke of her haughty mother-in-law (Barbara Jefford). At the suggestion of family friend Caroline Abbott (Helena Bonham Carter), Lilia leaves her young daughter and in-laws for a holiday in Italy, where she falls in love with the penniless but handsome Gino Carella (Giovanni Guidelli). When she announces her plans to marry Gino, the family dispatches her brother-in-law, Philip (Rupert Graves), to prevent the union. But the alternately caddish and thoughtful Philip fails in his mission. Gino proves to be as charming to other women as he is to his wife, but he's genuinely bereaved when she dies in childbirth. Soon, Philip and his high-strung sister, Harriet (Judy Davis), arrive in Tuscany in an attempt to spirit away Lilia's son. But the principled Caroline turns up, determined to stop them, setting the stage for unexpected realizations and unforeseeable tragedy. Where Angels Fear to Tread reunites Bonham Carter and Graves, who co-starred in the previous E.M. Forster adaptation, A Room With a View. Each actor also starred in other Forster films: Bonham Carter in Howards End and Graves in Maurice.
Rating:
PG
Genre:
, ,
Directed By:
Written By:
In Theaters:
On DVD:
Runtime:
Studio:
Simitar
Critic Reviews for Where Angels Fear to Tread
All Critics (13) | Top Critics (3) | Fresh (8) | Rotten (5) | DVD (1)
The story's constant and unexpected turns do provide rewards, but the real value of the film is in the richness with which it presents moral and emotional conflicts, laying them out with sensible realism and power.
A richly nuanced comedy of manners about the affect of a foreign country and its culture on two provincial souls.

Spirituality and Practice
Where Angels Fear to Tread is slow and deliberate, but the film is so absorbing that the audience won't mind.
Deseret News, Salt Lake City
Audience Reviews for Where Angels Fear to Tread
½
:) Netflix Online [url="http://www.rottentomatoes.com/m/where_angels_fear_to_tread/"][img]http://images.rottentomatoes.com/images/movie/coverv/88/766788.jpg[/img][/url] [b]My Review:[/b] The acting was stellar. Rupert Graves was a stiff young Englishman, but I found him endearing. Harriett, the sister, was most annoying and disagreeable. I believe at the end she was sorry for what had happenend, but it was too late, in my opinion. Gino seemed like a bit of a weak character, although he had some redeeming value at the end, too. Overall, this was a rather convoluted plot with lots of characters, not much for any of them to do, and a pervasive sadness about it. I liked this movie, but it was missing something - perhaps continuity or depth. I especially enjoyed the costumes and the fact that it was set at the turn of the century in what appeared to me to be Florence, Italy and/or the Tuscan countryside, both of which I have visited. Subtitles would have helped at times. [b]SYNOPSIS:[/b] An adaptation of E.M. Forster's first novel, written in 1905, about a middle-aged English widow, Lilia Herriton, who shocks her very repressed, proper, and dull in-laws by marrying a young local she meets while vacationing in the Italian countryside. Tragedy strikes and her relatives plot to bring her young child to England for a "proper" upbringing.
XXX --------
This was a pretty disappointing movie for me. It really just mimics and taps into the popularity of films like "A Room With A View", "The Importance of Being Eanrest", "Enchanted April" or even "The Painted Veil". Its mildly amusing, and pretty well acted, but that is about it. It always kind of surprises me to see Helena Bonham Carter is these type of roles. I realize they are what made her famous, but she is so much better as Marla in Fight Club, or as the Corpse Bride or the muderous Mrs. Lovett. As much as I would like too, I really cannot even say its worth watching; because its not.
½
Disappointment! There are so many hidden themes that are waiting to burst out and lead the audience to question the differences between society, culture, truth, class, and passion, but whenever there's a built-up, the film just vaguely represented these messages and fail to make a connection to the book and interact with the audience. Great book, plot, scenary, and cast, but a waste of movie.
Annie Chen
Where Angels Fear to Tread Quotes
There are no approved quotes yet for this movie.
Discussion Forum
Discuss Where Angels Fear to Tread on our Movie forum!