Treasure Chest Of Horrors
(2012)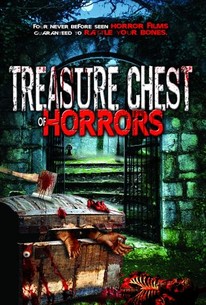 AUDIENCE SCORE
Critic Consensus: No consensus yet.
Treasure Chest Of Horrors Videos
Treasure Chest Of Horrors Photos
Movie Info
Join Percival Pirate on his quest to discover his Grandpappy's hidden treasure chest. What might have contained a wealth of gold, precious jewels, and doubloons ends up holding a much more valuable treasure: four never before seen horror films guaranteed to rattle your bones. The ""booty"" features vampires, killer mannequins, a gruesome high school killing spree and more. Featuring special appearances by horror legends Lloyd Kaufman and Shawn C. Phillips. Be prepared to laugh, scream, and clutch your balls in agony as you witness some of the greatest horrors of low-budget cinema. As a bonus, the collection includes director's commentary for each segment.
Rating:
NR
Genre:
,
Directed By:
Written By:
Runtime:
Studio:
World Wide Multi Media
Critic Reviews for Treasure Chest Of Horrors
There are no critic reviews yet for Treasure Chest Of Horrors. Keep checking Rotten Tomatoes for updates!
Audience Reviews for Treasure Chest Of Horrors
"Treasure Chest Of Horrors" is directer's Doug Waugh and Shawn C. Phillip no budget horror anthology that features four unique tales both dark and funny. There is also a big bonus for this little anthology, the cult personality Lloyd Kaufman co-director for "The Toxic Avenger" and "Class Of Nuke 'Em High" stars. Percival Pirate discovers a chest of four never before seen horror films while on a quest to find his grandpappy's gold treasure. Each of the stories are original frightening tales that range from the classic slasher to the vampire metamorphosis and the black comedy gorefest. "Rotten Classmates" is a fun short that finds a group of school bullies getting some payback after one of their victims is pushed beyond the breaking point. This is a cool homemade special effects driven classic slasher origins tale. It is both creative and entertaining. "Vampire's Lust" tells the story of Tobias who is bitten by a vampire bat then transforms into a creature of the night. This short reminds me of 80's horror comedies with a little John Waters insanity. It is a very funny throwback that completely entertains in true low budget style. "Resident Emo" is about an Emo kid cursed who becomes a ghoulish creature of death and attacks his classmates. This could have been fun to watch it it wasn't so offensive and insensitive to the Emo culture. I didn't care for this short but it has some very entertaining moments. I only hope this was actually done by Emo's and gay outcast kids so my opinion will prove wrong. "Mama, It's A Mannequin" is a funny and twisted black comedy about a maniacal mannequin that attacks a birthday celebration. This is a clever short bordering on deranged. It is both entertaining and original. My favorite of the set. "Treasure Chest Of Horrors" has the goods to both entertain and shock. There are some moments of great visual vulgarity that brings the funny home with uncontrollable bowel release and gory wittiness. Percival Pirate is very appealing as Horror Host, (and I have to get gay here) very easy on the eyes. I personally did not care for the "AIDS" comment in reference to "Vampire's Lust" but everything else about this anthology is freshly entertaining filled with dark insanity.
rick russ
Discussion Forum
Discuss Treasure Chest Of Horrors on our Movie forum!