Treasure Inn
(2011)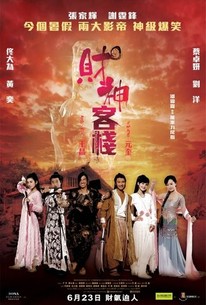 AUDIENCE SCORE
Critic Consensus: No consensus yet.
Movie Info
Nicholas Tse and Nick Cheung play law enforcers who are pulled into a dangerous and seductive adventure, as they pursue a dream of becoming Gold Shield Constables.
Critic Reviews for Treasure Inn
There are no critic reviews yet for Treasure Inn. Keep checking Rotten Tomatoes for updates!
Audience Reviews for Treasure Inn
½
Wong Jing's Treasure Inn screams wuxia comedy all over.
This picture contains a straightforward plot that has difficulty filling its 90+ minute run time. Sandwiched between a decent first act and an action-filled finale is a lot of nonsense just used to lengthen this production. Sure, it's a comedy, but when the laughs are a few, it becomes a waste of time.
The action is pretty good and it serves as a savior for this picture. There are a few segments with typical wire fighting, but this film does have its share of eccentric engagements as well. Watching "Acoustic Power" being played on a lute is quite the amusement.
Nick Cheung and his goofy teeth are only worth a few chuckles. Nick Tse's performance seems a bit more suitable for a serious film rather than a comedic one. Charlene Choi and Huang Yi are a bit much to handle. The latter is more tolerable. The lovely Liu Yang is one of the more enjoyable of the bunch along with Tong Dawei.
Treasure Inn doesn't offer a whole lot outside of a film of this caliber, but it manages to get by.
½
This 2011 Hong Kong wuxia comedy directed by Wong Jing and Corey Yuen was recommended to me by a friend... and I had to see it! Wuxia is a Mandarin-language term that literally means "martial arts chivalry" and represents a uniquely Chinese variety of storytelling that dates back long before the advent of filmmaking, at least as far as the Tang Dynasty (618-907). It is defined by stories that combine China's wushu (martial arts) tradition with deeds of heroic chivalry performed by men and women. During the Ming Dynasty (1368-1644), these tales became epic novels such as Outlaws of the Marsh and Romance of the Three Kingdoms. Protagonists were often sword-bearing warriors of great virtue, who, like Robin Hood or King Arthur, would apply their fighting skills to vanquishing injustices with the edge of their blades. Have the above info in mind when you watch this charming comedy with unusual events happening left, right and centre... some of those so unreal that you had to enjoy it... and starring Nicholas Tse, Nick Cheung, Charlene Choi, Liu Yang, David Tong and Huang Yi gives you extra satisfaction because they were, at least for me, perfectly cast! The story is about Master Kung and Lo Pa, who are two police officers of White Horse City, who have high skills but are underused (washing dirty clothes was one of the duties :-)). A robbery happened at the city's richest man Ho Pak Man's home where his whole family was killed and their family treasure the "White Jade Goddess of Mercy" was stolen and the "Police God" Tit Mo Ching investigates the case. Kung and Lo Pa cannot participate because of their low status... but their "skills" did not get unnoticed... Coincidentally, Master Kung and Lo Pa arrest a pair of twin gorgeous sisters, Water Dragon Girl and Fire Dragon Girl(by the way, they always pretend to catch wanted criminals to get money rewards). The twin sisters know that the "White Jade Goddess of Mercy" would be brought to the "Treasure Inn" for an auction. Wanting to hit big, Master Kung and Lo Pa go to the "Treasure Inn" with the twin sisters to investigate the truth. During that time, Master Kung and Water Dragon Girl fall in love... starts with a kiss... I'll say that this is one of director's Wong Jing better films and you'll be entertained... I heard that someone said that there is certainly no treasure... sadly, I agree... do not expect too much and you'll enjoy it!
Treasure Inn Quotes
There are no approved quotes yet for this movie.
Discussion Forum
Discuss Treasure Inn on our Movie forum!