Treasure of the Four Crowns
(1983)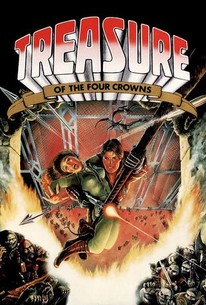 AUDIENCE SCORE
Critic Consensus: No consensus yet.
Treasure of the Four Crowns Photos
Movie Info
The second 3-D collaboration between Tony Anthony, Gene Quintano, and director Ferdinando Baldi, this follow-up to Comin' at Ya! was neither as successful nor as entertaining. The plot, borrowed from Raiders of the Lost Ark, has Anthony and his friends trying to retrieve a legendary treasure from a sinister cult. 3-D effects include a flying decapitated head, balls of flame, and skeletons, which made the movie a lot of fun in theaters, but the flat version available on video only serves to highlight the derivative plot and uninspired performances.
Rating:
PG
Genre:
, ,
Directed By:
Written By:
In Theaters:
Runtime:
Studio:
Cannon Group
Critic Reviews for Treasure of the Four Crowns
There are no critic reviews yet for Treasure of the Four Crowns. Keep checking Rotten Tomatoes for updates!
Audience Reviews for Treasure of the Four Crowns
Extremly bad rip off of Raiders of The Lost Ark,Treasure is a massivly low budget 3D mess that is badly made and virtually has no plot what so ever.Now an extremely all but lost film,I only give this a 10% for the theme music done by the master Ennio Morricone,which most likely cost more then the entire film!
Matt Armacost
I don't get it. I love trashy Italian films and I love trashy Cannon films, but for some reason when the two are mixed it comes out disappointing. Hell even the Cannon film Jungle Raiders from Italian rip-off king Antonio Margheriti came out disappointing! Treasure of the Four Crowns sadly not only ranks as the worst the worst Cannon Indiana Jones rip-off I've seen but also the worst Italian Indiana Jones rip-off I've seen and to be honest that is quite a feat! The film begins with our hero (played by Tony "Tony") wondering into a castle in order to find a key. In his quest he gets attacked by birds, dogs and snakes and everything else but the kitchen sink. By the time he got to the key I was thanking God they didn't have him fight ghosts like in Get Mean. I spoke too soon as no shit our hero even has to fight ghosts in the castle that cause crows bows to fire and float in air. He even has boulders chase him in grand Indiana Jones fashion. They may be smaller than the Jones versions but these ones are badass as they are on fire! After 20 goddamn minutes of him going through the rip-off motions with no dialogue, we are finally introduced to some plot. Tony Tony arrives back home to hand over his employers the key. They state the key opens easy of the legendary "four crowns" and the two remaining crowns seem to be held in a high tech security hold that belongs to a Satanic religious cult. What! A Satanic cult! By this time in the film I was even questioning my own faith in God! Our hero is then assigned some forgettable sidekicks to go get the skulls, but will he be able to defeat the alarms, defeat the cult, and his own temptations? Does anyone care by this point? This film is just dreadful and to make matters worse the film, like the previous Anthony/Baldi team up Comin' At You!, was filmed in "Wondervision 3D" so it is plum full of all the typical 3D gimmickry of shit "flying at the camera". On 2D video our 3D film looks dull and blurry. The plot is just Z-Grade Indiana Jones material full of superficial characters and an absolutely boring "hero". Tony Tony juts looks too old and tired to be playing these parts (not as bad as Roger Moore circa A View to a Kill mind you) and his performance gives me the impression he didn't give a shit either. To be honest this was his final film and for actor Tony Tony and trust me I didn't shed a tear. He had some fun movies in the past but it was due time for him to retire. The film however hits its absolute low towards the end when our hero grabs the two gems in the "good" crown and the "evil" crown and these two powers causes him to mutant into a half-assed monster that shoots flames from his hands. I kid you not.... This not only sucks as an Indiana Jones rip-off but it sucks as a film in general. There's nothing, absolutely nothing to recommend about this turkey and it even fails to entertain on the B-movie level that so many of its Italian counterparts are so successful at. If you want an Indiana Jones rip-off with Entertainment value then see Cannon's King Solomon's Mines or some trashy adventure films directed by Antonio Margheriti. Treasure of the Four Crowns is a treasure not worth discovering. Even though the film sucked, I have to thank my friend Bill for locating me a copy. Thanks Bill for satisfying my curiosity!
Eric Reifschneider
A shameless rip-off of Indiana Jones, with a bit of Mission Impossible thrown in. J.T. Striker (love that name) is a rebel treasure hunter, and no one tells him what to do! I've seen a lot of 3D movies, but this takes the prize for most things hurtled at the camera. Every time an arrow, gunshot, or exploding body part comes at the audience, the shot is repeated 3 times in slow motion just in case you missed it. The plot is nonsensical and full of accidental laughs. (For one thing, I only counted three crowns. That's one crown short, guys.) I really wish MST3K could have done this one, it's calling out for a sarcastic commentary track.
Mike Boas
Treasure of the Four Crowns Quotes
There are no approved quotes yet for this movie.