Trees Grow Tall and Then They Fall
(2005)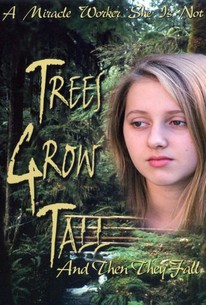 AUDIENCE SCORE
Critic Consensus: No consensus yet.
Movie Info
Motivated by compassion and the urge to escape her dreary life with a boozing father (Dave Bushnell) and his world-weary girlfriend (Sarah Aldrich), young Ellen (Katherine Everitt) plans to rescue a brain-damaged lumberjack from a nursing home. Along the way, the teenager experiences first love and other adolescent rites of passage. Tim Everitt directs this coming-of-age tale based on a short story by Verna Everitt.
Rating:
NR
Genre:
Directed By:
In Theaters:
On DVD:
Critic Reviews for Trees Grow Tall and Then They Fall
There are no critic reviews yet for Trees Grow Tall and Then They Fall. Keep checking Rotten Tomatoes for updates!
Audience Reviews for Trees Grow Tall and Then They Fall
½
Trees Grow Tall And Then They Fall (Tim Everitt, 2005) Trees Grow Tall and Then They Fall could have been something special, given another script rewrite, a few better actors, and a slightly better marketing team (i.e., one who didn't misrepresent the movie as some sort of prison/heist thriller instead of the slow coming-of-age drama it really is). At least, I believe this to be true. This may be unfounded optimism talking; my voice seems to be the only one in this particular wilderness. The movie, which seems to have gone entirely unreveiewed by critics, has been savaged by those who have viewed it and then wandered off to IMDB (3.8/10 as I write this) or Rotten Tomatoes (2.8/5) to rate it. And, well, they have a few salient points. Plot: Ellen (The Evil Inside Me's Katherine Everittâ"given she only seems to work with Tim Everitt as a director, one assumes âdaughterâ?) is a rural girl (read: redneck) hitting adolescence in a place that is, shall we say, not optimal. Her father (TV character actor Dave Bushnell in his screen debut) is an alcoholic living with a woman (The Inner Circle's Sarah Aldrich) who's married to Mike, a logger (Squeal's Stephen Dean) who was badly hurt in an accident and is considered to be brain-dead by pretty much everyone who knows him. Ellen becomes convinced that Mike is still sentient behind the dull eyes and vacant smile and most of the movie focuses on this developing, possibly one-sided, friendship. (The plot point where Ellen decides to break Mike out of the nursing homeâ"which, amusingly, is the only modern-seeming building in this entire middle-of-nowhere areaâ"is almost an afterthought in the final, oh, fifth of the movie or so.) This is the sort of thing that, when it is done correctly, makes for great coming-of-age drama. Tinged with mystery? Even better. (The obvious comparison, at least at this point in time, is with Winter's Bone.) But the key there is âdone correctlyâ?, which this is not. The acting, while usually earnest, is amateurâ"Everitt is the best actor in the bunch, which was great given that she's the lead, but a good lead is always buoyed by fine performances from the supporting cast. The script could have used a great deal of tightening, especially where pace is concerned. The only thing that truly works here is the cinematographyâ"Everitt, normally a visual effects guy, definitely knows where to put a camera for maximum effectâ"so if you're okay with a series of pretty pictures, this is worth checking out. Other than that, wait for a remake, and hope the script is reworked by someone who gets coming-of-age dramas. * Â 1/2
Robert Beveridge
Trees Grow Tall and Then They Fall Quotes
There are no approved quotes yet for this movie.