Trembling Before G-d
(2001)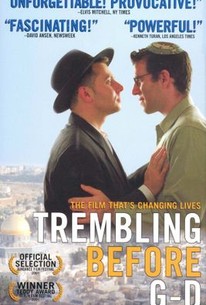 TOMATOMETER
AUDIENCE SCORE
Critic Consensus: Trembling Before G-d looks at the effects of religious morality on believers whose sexuality falls outside the accepted norm with intelligence and compassion.
Trembling Before G-d Photos
Movie Info
Shot in six countries, this documentary shatters assumptions about faith, sexuality, and religious fundamentalism. Built around intimately-told personal stories of Hasidic and Orthodox Jews who are gay or lesbian, the film portrays a group of people who face a profound dilemma - how to reconcile their passionate love of Judaism and the Divine with the drastic Biblical prohibitions that forbid homosexuality. As the film unfolds, we meet a range of complex individuals - some hidden, some out - from the world's first openly gay Orthodox rabbi to closeted, married Hasidic gays and lesbians to those abandoned by religious families to Orthodox lesbian high-school sweethearts. Many have been tragically rejected and their pain is raw, yet with irony, humor and resilience, they love, care, struggle, and debate with a thousands-year old tradition. Ultimately, they are forced to question how they can pursue truth and faith in their lives--and survive--while upholding the universal struggle to belong.
Critic Reviews for Trembling Before G-d
Audience Reviews for Trembling Before G-d
½
The idea for this documentary is great. Hearing about the reaction to gay and lesbianism in cultures is fascinating. The problem is the execution. It simply doesn't grip us. This is a lost opportunity.
John Ballantine
Super Reviewer
½
[font=Century Gothic]"Trembling before G-d" is a documentary about the difficulties faced by gay men and lesbians living in the Hasidic and Orthodox Jewish communities where biblical passages have been interpreted to condemn homosexuality. Another obstacle is how tight knit these communities are, making it extremely hard for a person to come out of the closet, especially when they are expected to marry and have children.(Thus explaining why certain participants have their faces blurred for the camera.) It is very sad seeing people forced to live lies.[/font] [font=Century Gothic][/font] [font=Century Gothic]The movie talks to gays and lesbians in Los Angeles, Miami, Brooklyn and Israel, along with rabbis and psychologists in the community. Whereas some professionals are clearly empathetic, others simply ask their charges to change and conform.(By the way, I think the woman with 12 children is not depressed because of her husband's struggle.) In the end, it is much easier to tell someone what to believe than it is to tell them how to feel. And if god exists, then I would be sure that she loves gays and lesbians as much as everybody else. [/font]
Trembling Before G-d Quotes
There are no approved quotes yet for this movie.