Trespass
(2011)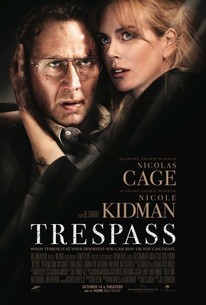 TOMATOMETER
AUDIENCE SCORE
Critic Consensus: Another claustrophobic thriller that Joel Schumacher can churn out in his sleep, Trespass is nasty and aggressive, more unpleasant than entertaining.
Movie Info
In a private, wealthy community, priority is placed on security and no exception is made for the Miller family's estate. Behind their pristine walls and manicured gardens, Kyle (Nicolas Cage), a fast-talking businessman, has entrusted the mansion's renovation to his stunning wife, Sarah (Nicole Kidman). But between making those big decisions and keeping tabs on their defiant teenage daughter (Liana Liberato), Sarah often finds herself distracted by a young, handsome worker (Cam Gigandet) at their home. Nothing is what it seems, and it will take a group of cold-blooded criminals led by Elias (Ben Mendelsohn), who have been planning a vicious home invasion for months, to bring the Miller family together. Kyle, Sarah and Avery will take the ultimate risk to make it out with their lives - and their family - intact. -- (C) Millenium
News & Interviews for Trespass
Critic Reviews for Trespass
Audience Reviews for Trespass
Kyle Miller: You let my wife leave and then I'll give you what you want! "When terror is at your door, you can run, or you can fight." If there were any justice in this world, Joel Schumacher would be done making movies after this abomination. He's made a few decent movies throughout his career, but there is no excuse for this. It's one of the worst movies you could ever force yourself to see. The cast is wasted, and again Cage picks a movie that he should have never been a part of. Same goes for Kidman. Liana Liberato is actually a decent young actress as well, and her performance is wasted on one of the worst scripts ever. A husband and wife are taken hostage in their own home. Their daughter had just left for a party, but she will be back. The home invasion was supposed to take fifteen minutes, but it doesn't go as planned. Big surprise there. From there it is stupid plot development after stupid plot development, with godawful backstories to go along with everything. There's empty threat after empty threat. "I'm gonna fucking kill you!" "Do it then bitch mutherfucka. You won't." "You think I won't fucking kill you cause I fucking will you stupid little fucking bitch." "Do it mutherfucker" "Oh wait, I forgot I can't because I have to fill an hour and a half runtime, but I'll point a fucking gun at your head 417 fucking times. Maybe that'll work." And that's how the movie goes. This is the worst Schumacher film ever. Yeah, it's worse then Batman & Robin in my opinion. When comparing the awfulness of those two side by side, it really doesn't even matter though. It's also the worst film either Cage(and he's been appearing in escalatingly awful films) or Kidman have been apart of.  Do yourself a favor and do not watch Trespass. It may look slick and stylish, but I guarantee you'll hate every second of this atrocious piece of shit. I'm trying to think of movies that were worse than this, that I've seen. Not many movies come to mind. It's down there with movies like Phantoms and Batman & Robin. Few movies can be this bad, but Schumacher knows how to make them.
Melvin White
Super Reviewer
A very average thriller that's been done much better so many times before. Pity with Cage & Kidman this went straight to DVD. It Just lacks any real sense of dread, tension and unravels far to quickly. Similar to Hostage and Trapped but they are more enjoyable.
½
Cast: Nicolas Cage, Nicole Kidman, Ben Mendelsohn, Liana Liberato, Cam Gigandet, Jordana Spiro, Dash Mihok, Emily Meade, Nico Tortorella, Zurab Matcharashvili Director: Joel Schumacher Summary: A husband and wife find themselves pushed to their absolute limit when they're held for ransom by brutal thugs who invade their home. As tensions escalate and shocking revelations emerge, the couple is forced to take ever-more desperate measures. My Thoughts: "Nicolas Cage and Nicole Kidman just seem to be a bad fit as a couple. Not believable. More strange and awkward. Felt forced. The story is a bit of a mess and so is the acting.There is too much back and forth. It gets to a point where your just like, "kill whoever already and let this movie be done with". It drags on way longer then necessary. Seems like they just through a story together and made a movie just to make one. In the end they made a mess and a movie that is worth skipping even if it has big shots like Kidman and Cage attached to it."
♥˩ƳИИ ƜѲѲƉƧ♥
Super Reviewer
Trespass Quotes
| | |
| --- | --- |
| Avery Miller: | Hey Mom, can I go to a party? |
| Sarah Miller: | Not tonight. |
| Kyle Miller: | I have to go with your mother on this one. |
| | |
| --- | --- |
| Kyle Miller: | You let my wife leave and then I'll give you what you want! |
Discussion Forum
Discuss Trespass on our Movie forum!