The Trial of Old Drum
(2000)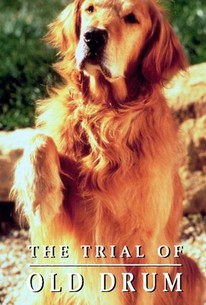 AUDIENCE SCORE
Critic Consensus: No consensus yet.
The Trial of Old Drum Videos
The Trial of Old Drum Photos
Movie Info
In the 1950s, a young boy, Charlie Burden Jr. (Bobby Edner), and his Golden Retriever known as Drum, share adventures in their rural town, many of which require the dog to save the boy's life: they have a boating accident and the dog pulls him from the lake; they encounter a pack of wild dogs and the dog slays them, but is gravely wounded. Then they run head-long into a grumpy old neighbor (John Schuck), who is convinced Drum has been killing his sheep. Like Dorothy's Toto, Drum is hauled away to be executed, but Charlie's dad (Ron Perlman) hires gilded tongue attorney George Graham Vest (Scott Bakula) to defend the canine before a jury and a judge. Vest's climactic closing argument had better be good, or they'll be playing "Taps" for Drum.
Audience Reviews for The Trial of Old Drum
½
Based on actual events, The Trial of Old Drum is a story that depicts the bond between a boy and his dog and the turn of events over one summer that threatened to tear them apart. While I would stop just shy of calling the film a classic, its messages regarding family values, courage, honesty, integrity, and love certainly provide a heartwarming family viewing experience. The script is riddled with clichés to be sure. But there is earnestness in the delivery and, given the 1950's era setting, an innocence that is endearing. When Ron Perlman delivers a line about bullies not being as tough as you think if you just stand up to them it transcends hokey and feels right for the time. The cast includes a pack of recognizable character actors. In addition to Perlman (Blade 2, Enemy At The Gates, Hellboy) the cast includes Bobby Edner (Spy Kids 3-D), Scott Bakula (American Beauty, Netforce), John Schuck (Dick Tracy, Curse of the Jade Scorpion), Dick Martin (Laugh-In), and Randy Travis (Black Dog, Texas Rangers) as the narrator. The DVD bonus features are few – a standard making-of feature and a handful of deleted scenes. Originally aired on Animal Planet, The Trial of Old Drum is a fair family feature, particularly enjoyable if you are a firm believer in the adage that a dog is man's best friend.
Rick Elliott
The Trial of Old Drum Quotes
There are no approved quotes yet for this movie.
Discussion Forum
Discuss The Trial of Old Drum on our Movie forum!