Trigun: Badlands Rumble
(2011)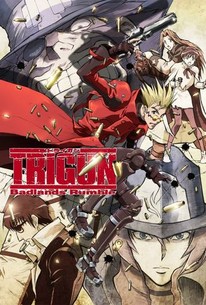 AUDIENCE SCORE
Critic Consensus: No consensus yet.
Trigun: Badlands Rumble Videos
Trigun: Badlands Rumble Photos
Movie Info
In a town surrounded by quicksand, an outlaw from Vash the Stampede's past has resurfaced after twenty years. His name is Gasback - and he's looking to cause a little trouble. It seems Gasback has a serious beef with the town's mayor, who's paying dozens of bounty hunters to protect his turf. One of those hired guns is a beautiful woman with a vendetta against Gasback. Will she get a shot at revenge? Maybe, if she can get through Gasback's bodyguard, Wolfwood. And what's Vash got to do with this mess? Nothing much - except for the fact that he personally set off the entire chain of events two decades ago! -- (C) Eleven Arts
Critic Reviews for Trigun: Badlands Rumble
All Critics (3) | Top Critics (2) | Fresh (2) | Rotten (1)
Even by the standards of some of the more cultish corners anime, this is a confusing mash-up of story and subtitling.

Orlando Sentinel
Top Critic
All I can tell you is that it's loud, chaotic, colorful, occasionally amusing and aimed at a fanboy target audience.

Audience Reviews for Trigun: Badlands Rumble
½
It's like you sit here collecting money without doing anything... Gasback is one of the most notorious thieves in the entire galaxy. He is a ruthless robber who robs more for the fun of it than the actual money. Vash encountered Gasback during his last mission and almost brought him down. Sometime later Vash and an assassin he's smitten with head to Macca City. Once they arrive, it quickly appears Vash and Gasback are destined to cross paths again. "Life is a struggle over resources." Satoshi Nishimura, director of all 26 episodes of the original Trigun series, delivers Trigun: Badlands Rumble. The storyline for this movie is very interesting and has dynamic characters that are fascinating and easy to root for. The animation style is awesome and definitely well done. "If you pull that trigger you'll be the one to die." I could never really get into the Trigun series because I always found Vash so irritating. The rest of the characters, the stories, and action are all awesome, so I think watching this as a 90 minute film really worked for me (I may even give the series a shot again). Nevertheless, as a standalone movie, this is definitely an awesome anime picture. "I just want a replacement donut." Grade: A-
Kevin Robbins
Chris Browning
Super Reviewer
Great story, the Vash from the series is present with his donut and peace loving ways. The visual aspect is incredible. A real treat for someone who loves the series.
Niels Christensen
Trigun: Badlands Rumble Quotes
There are no approved quotes yet for this movie.
Discussion Forum
Discuss Trigun: Badlands Rumble on our Movie forum!