Trilogia: To livadi pou dakryzei (The Weeping Meadow)
(2004)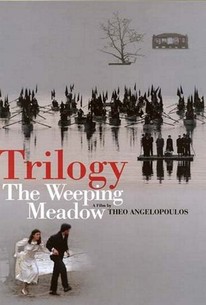 Movie Info
Master Greek filmmaker Theo Angelopoulos wrote and directed this downbeat look at his nation's often blighted history, as seen through the eyes of an unfortunate young couple. In 1919, a band of Greek refugees who had found a home in Odessa are forced to return to their homeland following the Russian Revolution, and they settle in Thessaloniki, a forbidding riverside village where few wish to dwell. Eleni is a youngster who arrives in Thessaloniki and is taken in by Spyros (Vassilis Kolovos), one of the village leaders. While Eleni is raised as a member of the family alongside Alexis, Spyros' son, the two find themselves attracted to one another as they grow older, and they pledge to someday marry. By the age of 16, Eleni (Alexandra Aidini) becomes pregnant by Alexis (Nikos Poursadinis), and she gives birth to twins, which Spyros puts up for adoption. However, after the death of his wife, Spyros declares that he will make the now-grown Eleni his new spouse. Eleni and Alexis see no choice but to run away together, and they join up with a band of traveling musicians led by Nikos (Giorgos Armenis). But an angry Spyros declares that he will find the runaways, while Eleni and Alexis attempt to stay one step ahead of him while searching for their lost children. Theo Angelopoulos announced that The Weeping Meadow will be the first film in a trilogy which will represent his final works.
Rating:
NR
Genre:
, ,
Directed By:
Written By:
In Theaters:
On DVD:
Runtime:
Studio:
New Yorker Films
Critic Reviews for Trilogia: To livadi pou dakryzei (The Weeping Meadow)
Audience Reviews for Trilogia: To livadi pou dakryzei (The Weeping Meadow)
I usually don't post reviews, but seeing comments about "superficial narrative" and "don't relate to Greece", I could not let this one go by. I've seldom seen movie this scrupulous, with exact metaphors, so analytical and yet so dramatic. There are emotional movies, there are rational narratives streamed on screen, here Theo got 2 in 1. Movie starts with broken connection between past (father Spyros) and present (son Alexis). Greece (Eleni) is married to past, but doesn't want it, can't live with it. It is Eleni and Alexis that hope to uncover "origin of the river". Eleni's love is already with Alexis, she conceives her future (twins) with Alexis. That future is un-acceptable to Spyros, "he would kill him", if he could, so they have to hide them out of view. Spyros is lonely, he has his own traumatic past (wife lost in great purge), he needs Eleni too. So Eleni runs away to Alexis. There is no road between the past and the present, you have to swim through river of memory. Rather boat through it, the only person that can enter that river is Spyros, others can only boat through it. Culture (musicians) is the only vehicle that drives between two and they pick up young couple, otherwise there is no road between old village and present city of Thessaloniki. Things are not good with modern (1920ies) Greece (Thessaloniki) either. Economy is in shambles, playing in taverns is not music and above all, sin of abandoned past (Spyros) persecutes. There is a dream (America), there is hope but there is unresolved conflicts (social conflict, we get echoes), lack of understanding, these are costs of a sin, sin of killed father, of forgotten past. Spyros and Alexis (past and present) never talk. One can't even say that they have conflict, other than loving the same Eleni, one Greece for two different paradigms. If they ever talked, if their relationship ("conflict") was understood, it might as well expire. One who lived in country with generational gap knows what I mean. Probably this muteness is perceived by some viewers as "undeveloped characters". This are not so much characters, these figures are decomposition of history, of human perception and there is no understanding of them as that understanding never happened. And it's not that there is something to understand, some metaphysical truth to uncover, rather its choices to be made. They (father and son, old and new ways, gendarmes and trade unions) have to decide, agree on how things will be done, who will be father to Eleni and who will be her husband. They try, but they can't. Father comes and tries to dance under son's music, but it doesn't work out, Eleni doesn't want him. Eleni and Alexis have to let past go, its forgotten, sacrificed, Spyros dies right there, when people finally seemed to enjoy themselves in new dancing Greece. But resolving this conflict (killing father, moving on) doesn't work either. When Young couple tries to take the ancestral house and livelihood, the family tree carries the blood of sacrificed past (Spyros's herd). There at last they get their kids (twins), killing past allows to move with future, but at too high of a price. Can't live with sin, traumatic memories flood the space of past, "the others" know about the sin and stone house windows. Trauma is not resolved, it's just forgotten, muscled out. Memory, space of past is flooded. They have to flee blind, ground slips under them, shore ahead is covered in the mist. Only very late in the movie same crowd reappears on that shore, only to mourn their dead. Killing of the father, forgetting and ignoring past conflicts and trauma are also suicide of "feeble modern democracy". Nikos (the fiddler, Karaindrou's tune, what little is left of cultural heritage) dies in ephemeral land of waving blankets. Greece is abandoned and its body unravels (unfinished knitting and broken thread) while Alexis boards his dream, marvelous liner to America. Present disappears never to have it again. From letters we know that dream (America) did not live up to be what was hoped for. In reality it was dirty and violent. Rationality, culture disappears, replaced by fake dream. Consequences are dire. When two futures, twins meet on the battlefield, there is no father to reason with them. There is no past, no knowledge to resolve their conflict. They kill each other. Greece is jailed in madness, in lost reason and exterminating conflict. This last bit - you might agree with it, you might not. Theo said in many different places that to him Greece is dead, he toasted his death by taxi driver in Eternity and a day. For Eleni all the guards in jail, they are all the same. German, American, what we take as an appearance of order and welfare, Theo rejects this, this is not living to him. Seems a bit overly dramatic, if not inaccurate, isn't it? There is someone living in modern Greece after all. Another person comes to my mind, my countryman - Mamardashvili, who on number of occasions said that all he sees is dead people, generation of dead. What makes them dead? Inability to extract knowledge out of experience of history. I never bought that, I thought that overly dramatic, if not inaccurate. Is it?, Not for Theo, his magic with space and time can handle this too. The reality splits in the end. There are two perspectives. Eleni thinks (sees) her children die in civil war. On the other hand twins, while at war, while in nightmarish life (Balkan reality we've also seen in other movies), they still think their mother died, while they are here and now. We, who see the movie, on this side of the split, we think we are alive. For Theo we are dead. Our renewal through permanent killing of past, through eternal inner conflict and rebirth, change through self-extermination, this is not life. All the uniforms are the same, we are jailed in our insanity. What we call welfare society is a jail of insanity for him. What is life for Theo? Voice of dead man reaches us through Alexi's letter, the very end. All three of them, with Spyros, going up the river and finding their origin, understanding what they are, seeing the meadow. Life, as it could be, alive.
Giorgi Shonia
½
A decidedly difficult film for me to feel as if i was fully comprehending all of its many layers. Beautiful, lyrical, poetic, and painterly simplicity yet deeply, even profoundly and purposely opaque and dissonant. I will chalk up these difficulties as more of a sign of my inadequacies as a viewer than anything to do with the film.
Lee Mayo
½
[center][img]http://www.longpauses.com/blog/09_13_04b.jpg[/img][/center] (Theatre) (First Viewing, 1st Angelopoulos film) This was probably the film I was least excited about of the tickets I bought for the LFF, so I was not expecting it to be no less than my favorite out of all of them! I've been meaning to catch up with Angelopoulos' films for a while now, but this still proved to be my first. [i]Trilogy: Weeping Meadow[/i] (the first instalment of a projected trilogy) is a marvellous, magical film that somehow manages to be both a three hour epic and an intimate family drama at the same time. The film moves at a snail's pace (which caused a few walk-outs), but Angelopoulos' patient, lingering signature style enveloped me to the point where I was entranced by the subtle rhythms of the narrative. The plot is surprisingly scant considering how much goes on emotionally during the film (which has to do with the trails and tribulations of a woman who runs away to elope with her fiancee's son, is forced to raise their twin sons in a harsh environment, and ultimately losing everything due to political circumstances). Angelopoulos strings together memorable images and events in a style reminiscent of Homer's epics, effectively demonstrating that life is composed of the events, both large and small, important and inconsequential, that would be meaningless and unrelated when taken out of context, but when experienced cumulatively achieve a resonance of breathtaking power. By the closing shot of the film my heart was broken, and my mind feverishly trying to process the remarkable film I had just witnessed. [b]Q & A with Theo Angelopoulos and Nikos Poursadinis[/b] An unexpected surprise- both the director and male star were present to field questions from the audience after the film. Poursadini's spoke in broken (if admirable) English, but had little to say other than variations of "it was an amazing experience to work with Mr. Angelopoulos! I don't know what else to say!" One the other hand, Angelopoulos was fascinating, an incredibly intelligent and articulate man, weaving into his answers to the audience's questions with references to film (Tarkovsky), literature (Flaubert), music (Vivaldi), as well as his personal history and views on subjects ranging from politics to aesthetic beauty. My favorite response was to the question "what is autobiographical in this film?," in which Mr. Angelopoulos replied "you know that famous quote by Flaubert that 'I am Madame Bovary'? I'm the same- this film isn't [i]about[/i] me, it [i]is[/i] me." I also appreciated the response to the question "what do you think someone not familiar wiht Greek history would get out of your films?," to which Mr. Angelopoulos responded along the lines of "this film is universal. Mothers in Iraq and Afghanistan cry over their sons the same way they do in this film." It made the film even more resonant that it already had been.
Jesse Last
Discussion Forum
Discuss Trilogia: To livadi pou dakryzei (The Weeping Meadow) on our Movie forum!