Triple Tap
(2010)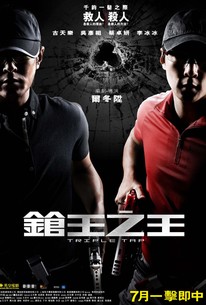 AUDIENCE SCORE
Critic Consensus: No consensus yet.
Movie Info
Champion competitive marksman Ken comes across an armored van robbery. He sees a policeman held hostage and shoots and kills four of the robbers. One of the robbers escapes and the policeman survives. The case is handled by Jerry Chang, whom Ken knows from having recently beaten him in a shooting match. Ken is found not guilty in court. Soon after, Ken is attacked by the escaped robber Pang Tao. Their confrontation reveals a very different background story and brings about a myriad of lies and traps and changes in relationships as Jerry and Ken try to outsmart each other.
Critic Reviews for Triple Tap
There are no critic reviews yet for Triple Tap. Keep checking Rotten Tomatoes for updates!
Audience Reviews for Triple Tap
It`s dead-on target. A shaprly crafted, swiftly-paced and intelligent thriller thats filled with sizzling suspense and high-energy action. An exciting, stylish and wickedly cool movie. A smart, pulse-pounding, and first-rate thinking-man`s crime thriller that packs a full-clip and packs a wallop...literally. It has a sharp and oroginal story with solid and strong characters. Louis Koo and Daniel Wu are sensational, they give gritty and terrific performances. It`s gripping and keeps you on the edge of your seat through every tension-filled and electrifying moment until its explosive final shot.
Derek Yee's Triple Tap isn't without blemishes, but it still ends up as an acceptable Hong Kong crime thriller.
The introduction sets up the conclusion, in turn making it somewhat predictable. What's left is the lengthy, nearly 2 hour, task of getting there. A good portion of the first half plays out like a political drama and it isn't until the second half that the film feels like a crime thriller. It is the first half that spends too much time delaying the inevitable, while not doing a sufficient job with some of the characters and character relationships.
Triple Tap revolves around two sharpshooters and the story does focus on this. The action does the same, but quantitatively it does lack. In fact, only the beginning and the ending contain the notable action segments. The rest of the film is more of a cat and mouse game between the good and bad characters.
The cast is sound and so are the performances. Louis Koo and Daniel Wu easily fit into their respective roles, while Li Bingbing and Alex Fong provide good supporting performances.
Triple Tap may lack in the action department and feel a bit lengthy; however the acting and decent enough story stop this from becoming a waste of time.
Triple Tap Quotes
There are no approved quotes yet for this movie.