Trippin
(1999)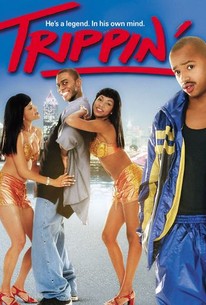 Movie Info
A high-school senior finds himself walking a fine line between daydreams and reality in the comedy Trippin'. Gregory Reed (Deon Richmond) is soon to graduate from high school, and he frequently drifts into a Walter Mitty-style fantasy land where he's the coolest guy in town, has money to burn, and fine ladies are throwing themselves at him around the clock; however, back in the real world, Gregory has a lousy job, no girlfriend, and no solid prospects of a date for the prom. A much bigger worry to his parents is the fact that Gregory has done almost nothing about planning for his future after graduation; he's so preoccupied by his problems with women that he hasn't even started applying to colleges. His best friend, June (Donald Faison), has got girls to spare, but while he has a future ahead of him, it isn't a good one -- he's started selling stolen goods for low-level crime boss Kenyatta (Stoney Jackson). The girl of Gregory's dreams is Cinny Hawkins (Maia Campbell), who's beautiful, smart -- and has a boyfriend. Figuring he'll settle for whatever attention he can get, Gregory asks Cinny if she can help him with his college applications, as she's been through the route and has already been accepted. Cinny agrees, and as she and Gregory become friends, she starts to wonder if her pushy boyfriend is really the guy she wants to take to the prom. Balancing typical teen-flick humor with a pointed message about personal responsibility, Trippin' was a surprise box-office success in the spring of 1999. Director David Raynr's own teenage years included a brief stint as a regular on the TV series James at 15. ~ Mark Deming, Rovi
Critic Reviews for Trippin
Audience Reviews for Trippin
The charismatic Deon Richmond plays a high school senior and major daydreamer Gregory "G" Reed who is your typical loser. His fantasy life takes up too much time to accomplish the tasks at hand, despite the constant goading of his friends and family. He daydreams of a rap-video lifestyle in which bikini clad sex kittens, wealth and high style are his. But upon waking, G faces a less appealing reality --- his middle-class, hard-working parents nag him to fill out college applications, his part-time job at a rib joint is a drag, and nobody wants to be his prom date especially the gorgeous, brainy and popular Cinny (Maia Campbell), who hardly notices him until he solicits her help in applying to colleges. However, with things looking up, G lets his flights of fancy get the best of him. Not only does he lie to Cinny about being accepted into UCLA, he also boasts publicly about the nature of their relationship. Needless to say, she isn't happy when his fibbing is revealed. In between trying to satisfy his parents, earn the affection of his beloved and avoid the neighborhood drug dealer (Stony Jackson), G may not survive his senior year.
Trippin Quotes
There are no approved quotes yet for this movie.
Discussion Forum
Discuss Trippin on our Movie forum!