Trojan War
(1997)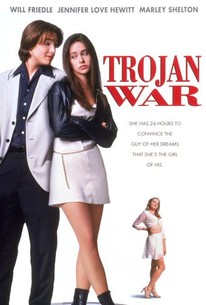 AUDIENCE SCORE
Critic Consensus: No consensus yet.
Movie Info
In this randier-than-usual teen comedy, Brad (Will Friedle) is madly in love with Brooke (Marley Shelton), but she happens to have a boyfriend who is a star on the school football team. Brad's best friend Leah (Jennifer Love Hewitt) doesn't think much of Brooke or Brad's interest in her, but this is largely because she's secretly in love with him and wishes he felt the same way. Brooke is having problems with her boyfriend and decides she wants to make him jealous, so while Brad and Brooke are studying together, she tells him she'd be more than happy to have sex with him that night. Good news for Brad, but there's one small problem -- Brad doesn't happen to have any condoms, and as the evening wears on, he has a harder time finding some protection than any man since the dawn of time. Leah, of course, is heartbroken -- as much as she wants Brad to get what he wants, she knows that Brooke is merely using him, and would never give him the love she feels for him. Trojan War was also shown under the title Rescue Me.
Critic Reviews for Trojan War
There are no critic reviews yet for Trojan War. Keep checking Rotten Tomatoes for updates!
Audience Reviews for Trojan War
Trojan War is a really good film that few people saw back in the late 1990's. The film played almost no where & essentially became a direct to video movie with almost no marketing whatsoever. It also became 1 of my favorite films. The film is really about what true love actually is & if people who start out as friends can actually progress into a romantic relationship. Brad(played by Freidle) is in love with a very shallow airhead (played by Shelton). But he can't see love right in front of his face with his best friend (played by J. Love Hewitt). The film analyzes very well the games people go thru trying to find the one or true love in their late teens or even early 20's. Brad is basically in love with a "human Barbie doll". You have to be at least about 30 to truly understand what the film is getting at. There is a deeper implied meaning to the plot amongst funny "teen speak & chaos". The film is directly comparable to the movie "Secret Admirer" (1985) from the 80's. The premise of the movie is that "real mature" love is about compatibility, moral values, & respect not just sex & physical attraction although those attributes are still important. With strong performances from Hewitt, Freidle, & Shelton & nice cameos from Hall, Lee Majors, & Griffin; it's a comedy you won't want to miss. 1 of the best teen comedies of the 1990's with a good soundtrack.
David Bocek
The same premises as many teen movies: guy wants one girl, has another girls help that's just a friend, one girl is not all she cracked up to be, goes to other girl, ending movie kiss. Rinse, recycle, repeat. It's bland and not worth the price of admission.
Andrew Lawson
As a fan of the TV series Boy Meets World it is always fun to see the actors in other roles. Will Friedle and Jennifer Love Hewitt are great in this movie that also has a good message in the end. Harmless fun but nothing of great importance.
Jonathan Porras
Trojan War Quotes
There are no approved quotes yet for this movie.
Discussion Forum
Discuss Trojan War on our Movie forum!