Tru Loved
(2008)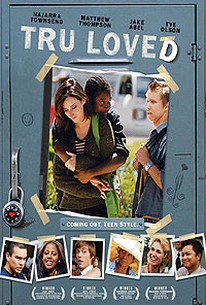 Movie Info
Uprooted from her comfortable San Francisco home and transplanted to a generic Southern California suburb by her two well-meaning moms, open-minded high-school sophomore Tru despairs at being surrounded by close-minded football players and air-headed Paris Hilton wannabes until she gets the idea to combat small-town intolerance by co-founding a local chapter of the Gay-Straight Alliance. Life in her new town isn't easy, so in order to fend off boredom, Tru frequently escapes into fantasy. But whether she's retreating into a picture-perfect, Leave It to Beaver-style household with two mothers and two fathers or dancing in the streets West Side Story-style, Tru's depressive new surroundings always remain the same once she's snapped back to reality. When the star quarterback at her new high school begins paying special attention to Tru, her initial elation is soon tempered by the revelation that he's actually just another closet case in search of a sympathetic shoulder to cry on. Though Tru is at first frustrated by the prospect of putting on a false front in order to protect the athlete's true sexuality, she decides to address the homophobic attitudes of her new classmates directly by opening a local chapter of the Gay-Straight Alliance. As the movement begins to gain steam, however, Tru is forced to reconcile her unguarded position on sexual orientation with the private pledge she has made to her closeted classmate.
Rating:
R (adult situations/language)
Genre:
,
Directed By:
Written By:
In Theaters:
On DVD:
Runtime:
Studio:
Critic Reviews for Tru Loved
Audience Reviews for Tru Loved
½
Between a 4/10 and 5/10, the movie is crummy on several levels, yet its desire to help make the world more loving and tolerant is so pure-hearted that criticizing it seems almost mean-spirited.
Lee Mayo
Terrific movie! Just heard it's coming out on DVD - AT LAST (I've been waiting), 22 December 2009 10/10 Author: niki-masterson from United States I saw this a year or so ago and it was great. I've mentioned it to many friends and we've been watching for it in theaters or on DVD ever since. I understand it is coming out on DVD in January 2010. I wish it had been released before Christmas, I'd have given copies to my friends as gifts. Seeing it in the theater was great because the audience reaction was fun and infectious. There was so much out loud laughing and other reactions that it made it comfortable to do so myself. Everyone around me seemed to enjoy it as much as I did. It was funny and sad and instructive and - I think, an important movie for people to see; especially in these times. I recommend it highly. See it. You'll be glad you did.
niki m
I saw "Tru Loved" at Outfest, and the audience LOVED it. If you're looking for dark and edgy angst, you will NOT find it here, and that's one of the reasons I'm a big fan of this movie. It manages to be light-hearted even when handling serious subjects, and funny, too (funny enough I missed some of the dialogue because of all the laughter). I've heard it described as "High School, but with a happy ending" and that seems apt. The cast ROCKS this movie, especially the lead, Najarra Townsend -- I expect to see a lot more of her. And what fun to see Nichelle Nichols (Star Trek's Lt. Uhura) on the big screen! This film isn't for those who are determined cynics, as they're unlikely to be open-hearted enough to let this movie speak to them, but for everyone else -- those who enjoy knowing there's still a little idealism possible in the world -- the intelligence and hope and humor will leave you smiling.
Dena Harman
Tru Loved Quotes
There are no approved quotes yet for this movie.
Discussion Forum
Discuss Tru Loved on our Movie forum!