Truth About Demons
(2000)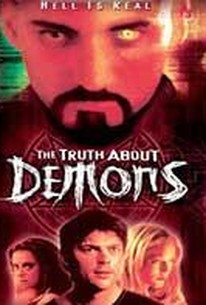 AUDIENCE SCORE
Critic Consensus: No consensus yet.
Movie Info
Recalling the absurdist bloodletting of fellow kiwi Peter Jackson, Glenn Standring's debut feature is a clever, gleefully ludicrous flick about demons, disembowelments, and bloody death. Auckland anthropologist Dr. Harry Ballard (Karl Urban), a noted foe of fringe religious cults, receives a video death threat from demon-worshipper and Anton LeVey clone Le Valliant (Jonathon Hendry). Ballard laughs off the missive but as he is trying to get into his car, he is abducted by a band of Satanist punks, shot full of heroin, and beaten within an inch of his life. Somehow he escapes from his prison, but when he relates his experiences to the police, they are more inclined to believe that Ballard's story is based on drug-induced hallucinations than fact. Later he discovers his girlfriend strung up with barbed wire and an incriminating message written in her blood. Panicked, Ballard flees into the streets where his sanity and his faith in rationality slowly starts to come apart. While being pursued by a slick-skinned demon, Ballard is saved by Benny (Katie Wolfe), a borderline schizophrenic angel of mercy who knows a thing or two about the dark side. As they try to save themselves in the city's maze of darkened back alleys, Ballard struggles to understand this new irrational world that yawns before him. This film was screened with the Midnight Madness program at the 2000 Toronto Film Festival. ~ Jonathan Crow, Rovi
Rating:
NR
Genre:
Directed By:
Runtime:
Audience Reviews for Truth About Demons
While the generic plot doesn't bear close examination and the dialogue is not always Pulitzer material, writer-director Glenn Standring conjures a creepy, brooding atmosphere.
Lee Mayo
I couldn't wait. I read the "30 Porn Star Portraits" this morning. People that have done books like this in the past usually have had some agenda rising out of their own sexual hangups and haven't gone any farther than presenting the stereotypical impressions of porn, photographing a bunch of sad-faced blondes with big boobs and Ron Jeremy. This book was way different. It presented portraits of a group of confident, clear-eyed people who looked at peace with what they do, even when photographed naked. The pictures covered an entire gamut of faces, blacks, whites, Asians, girls just starting in the business, retired legends, men who do gay porn, women with big breasts, women with tiny breasts...and Ron Jeremy. (I guess they just couldn't do without him.) In essays by promiment figures and short bios written by the performers themselves, a lot of different reactions to porn are presented. That led me to thinking about my own reaction. which besides the expected arousal, is actually admiration. I could care less what others think. I admire the hell out of women like Janine, Ginger Lynn and Nina Hartley for being able to get in front of a camera and do what they do. It's a kind of courage and self-awareness I wish I had. That goes for any sex worker, including strippers and escorts. Yes there are a lot of horror stories behind many of those folks but in those I've encountered I've also seen a comfort level with their being that the so-called "normal" people who denounce them only wish they had. I'm still coming to grips exactly with what triggers my respect. Is it the freedom to go around naked? Whatever it is they are in a place I wish I was. Approaching the age of 50, I have to admit I've never really figured out what I want to do with my life. I have talents like writing and being able to analyze things, but I've never had any clear plans or goals. Everywhere I go in this world I feel like I don't really belong there. I don't talk to people, not because I'm shy, but becuase I feel like nobody would underestand me. I'm scared to confront a lot of my feelings myself. I do know I terribly miss the intimacy and joy of loving and being loved. I long for the simple touch of another person and I worry myself into a deep depression because I have little prospect of ever having that. Sometimes when I watch porn I feel like that's my one connection to the world. After all, a lot of the things we worry about and talk about everyday just boil down to bullshit in the long run. At the core there is that longing to connect with another person both physically and emotionally. The ladies who put that example out there for us, instead of the more accepted parts of our culture which are all about killing, revenge and hate, are shining stars to me. If Nina Hartley were the head of NOW or had some influence in Washington, this would be an infinitely better world.
Jerome Wilson
Discussion Forum
Discuss Truth About Demons on our Movie forum!