Truth About Love
(2005)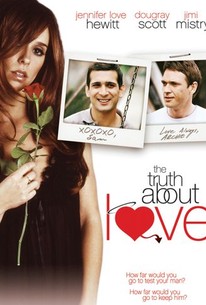 Movie Info
A simple Valentine's Day card leads a couple to ponder the strength of their love in this romantic comedy starring Jennifer Love Hewitt, Dougray Scott, and Jim Mistry. When Alice (Hewitt) receives a Valentine's Day card from her husband Sam (Mistry)'s best friend, Archie (Scott) -- who harbors a lingering crush on his lifelong pal's beautiful wife -- she mistakenly assumes it to be from her husband, and playfully responds with an anonymous card of her own. Suspicions rise however, when Sam hides the anonymous card from his wife and she begins to suspect that he may have a secret mistress. Could a simple prank have the power to unravel years of marital bliss and shake the foundation of Alice and Sam's loving relationship, or will Sam's lovelorn pal Archie be able to help his old friend save his marriage despite his growing feelings for Alice?
Critic Reviews for Truth About Love
Audience Reviews for Truth About Love
I found this movie to be very entertaining. This is a romantic comedy where a wife wants to find out if her husband is having an affair, so she sends a fake valentine card to her husband pretending to be another woman. She wants to test him and see how far he is willing to go with another woman. During all this she meets her husband's girlfriend and everything becomes very complicated as her husband's best friend declares his love to her. I found this movie to be very charming and like a classic love story. I did not have any expectations for this movie and that's probably the reason for my high rating. I also love Jennifer Lowe-Hewitt's performance in this movie. This is definetily a movie to watch on a rainy day.
Naughtia Nahazhina
Super Reviewer
well first of all im not really covinced with jennifer love hewitts english accent but its an okay movie nothin special its not that funny. Its not a great movie a typical boring british romcom that isnt really funny!
Film Crazy
Super Reviewer
Leigh Ryan
Super Reviewer
Truth About Love Quotes
There are no approved quotes yet for this movie.