Tu Xia Chuan Qi (Legend of Kung Fu Rabbit)
(2011)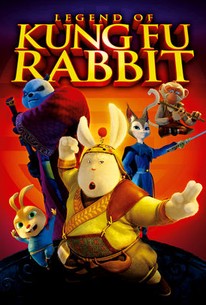 AUDIENCE SCORE
Critic Consensus: No consensus yet.
Movie Info
In order to keep his promise to aging kung fu master Sifu, Fu the rabbit, a humble chef, must venture out of the comfort of his kitchen. He teams up with Penny, a kung fu prodigy, and her sidekick Biggie to go on a heroic quest to defeat Sifu's arch-nemesis, Slash to save their kung fu academy from peril.
Critic Reviews for Tu Xia Chuan Qi (Legend of Kung Fu Rabbit)
Audience Reviews for Tu Xia Chuan Qi (Legend of Kung Fu Rabbit)
Lijun Sun takes a Chinese martial arts period piece and turns it into an animation. The result is Legend of a Rabbit.
The story is rather light, even with a run time that just surpasses 80 minutes. It isn't that the pacing is slow, because the film moves from scene to scene rather quickly using a lot of fade outs. It's more the meandering of the plot that is wasteful. What seems like something so simple ends up getting prolonged just to make the movie longer.
The martial arts is amusing to a point. With CG animation, it isn't difficult to have the characters go all out with over the top moves and fight scenes; unfortunately, the action is not the most memorable element of this production.
The voice work is OK. Fan Wei is an acceptable Tu. Yan Ni and Zhang Fengyi are more fitting to their characters, Peony and Slash respectively. Zhang Yishan is a bit awkward as Biggie.
Ultimately, Legend of a Rabbit has nothing that really stands out. It is merely a Chinese CG animation that is quick sit through.
Tu Xia Chuan Qi (Legend of Kung Fu Rabbit) Quotes
There are no approved quotes yet for this movie.