Tuff Turf
(1985)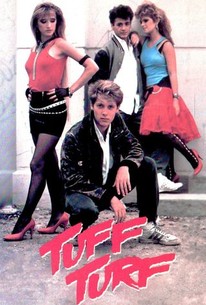 Movie Info
This routine film catalogues what happens to a teen's life when he is wrenched from an easy existence in affluent, East Coast suburbia and dropped into the lean, mean streets of a downscale L.A. suburb. James Spader is Morgan Hiller, displaced with his parents and brother when his father loses some of the wealth to which they were accustomed and the family moves to California. Morgan soon attracts Frankie (Kim Richards), the girlfriend of Nick (Paul Mones), a high school tough who does not appreciate Frankie's change of heart. The antagonism between Morgan and Frankie mounts as they both approach a high-noon showdown. Aside from some musical numbers which seem to have wandered in from another film about teen singers and dancers, the story is compelling and the film is notable for one of the early performances of Robert Downey in a subsidiary role.
Audience Reviews for Tuff Turf
Hey, it's another 80s teen movie with a confusing non-message about class struggle and stuff. In a cockroach and crime-ridden LA neighborhood (a.k.a. Tuff Turf), James Spader and a Robert Downey Jr. sidekick fight for the right to be cool. What's not to love? Spader wins over the hottest girl in school in the process. We learn that the heroes of this movie want nothing more than to have really, really long hair, dance, and party with creepy white lounge singers who thrust vigorously into their saxophones. We also learn that there's a fine line between fighting and dancing--especially when new wave meets white trash meets a Hollywood teenage gang. Tagline: Spray can vs. knife vs. car vs. bike vs. gun vs. Spader kick vs. dance!
Bivo Mon
Spader is the new Dean in this rebellious teen drama/thriller. I really liked it, and if you're a fan of Spader you'll like it too.
Great film, brings back many childhood memories. It's cheesy in parts of course (teen 80's) but that's only part of it's charm. I'll never get tired of this film. It's a fun and entertaining viewing experience. Great soundtrack as well.
jd cryptic
Super Reviewer
Tuff Turf Quotes
There are no approved quotes yet for this movie.
Discussion Forum
Discuss Tuff Turf on our Movie forum!